At Lose Baby Weight. we understand how important motivation is and how having constant motivation can make the difference between success and failure when you are losing weight.
So as part of our Get Ready For Summer Challenge (you can join up here – it is FREE) our fabulous Motivating Mums who have lost their weight on our plans will be online EVERY NIGHT at 9pm EST to answer any questions you have and to help motivate you.
They have been there. They know the ups and downs. They understand the tough times. They have jumped the hurdles and overcome the obstacles. They will offer you real and first hand advice and you have LIVE access to one of them every night from 9pm EST time on our Facebook page – so make sure you are on our Facebook page each night at this time ready for the live Q&A time!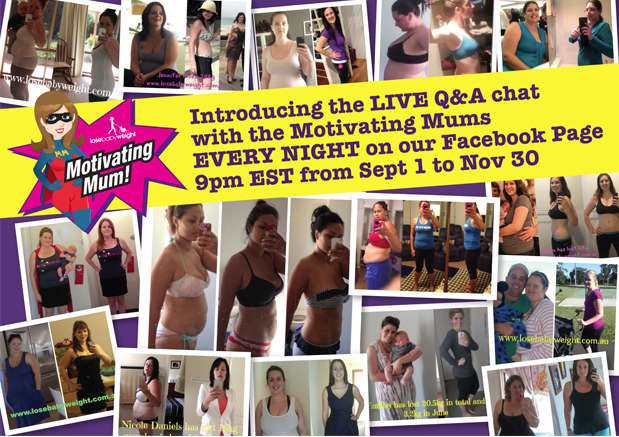 The Q&A will run from Sept 1 through to Nov 30 – and WE REPEAT it is on EVERY NIGHT!
The FIFTEEN Motivating Mums who you will be able to ask questions over this time (and who we are VERY grateful have agreed to do this over our Summer Challenge!) are;
So ladies GET READY, This Spring we are giving you MORE MOTIVATION, MORE SUPPORT, MORE TOOLS than EVER before so you succeed in reaching your goals!
PLUS as part of the Summer Challenge you can Enter the WEEKLY Get Ready For Summer Challenge promotion by submitting your weekly results and you could win the weekly $500 prize pack (which is made up of a fantastic Ergobaby Baby Carrier, a pair of Brooks trainers & gorgeous leisure wear top from Brasilfit)