When you are trying to eat well and lose weight, it can be easy to focus solely on the fat content of your food.
After all, fat is what is promoted as 'the enemy' for people trying to lose weight.
But there is another hidden nasty in many processed foods that is also doing its best to derail your weight loss efforts – and that's processed added sugar.
Yes, the white stuff is everywhere. As well as the obvious places (adding it to your tea/coffee, donuts, cakes, biscuits, ice cream) it's also in many of our cereals, bread, dressings, sauces, yoghurts and other common grocery items.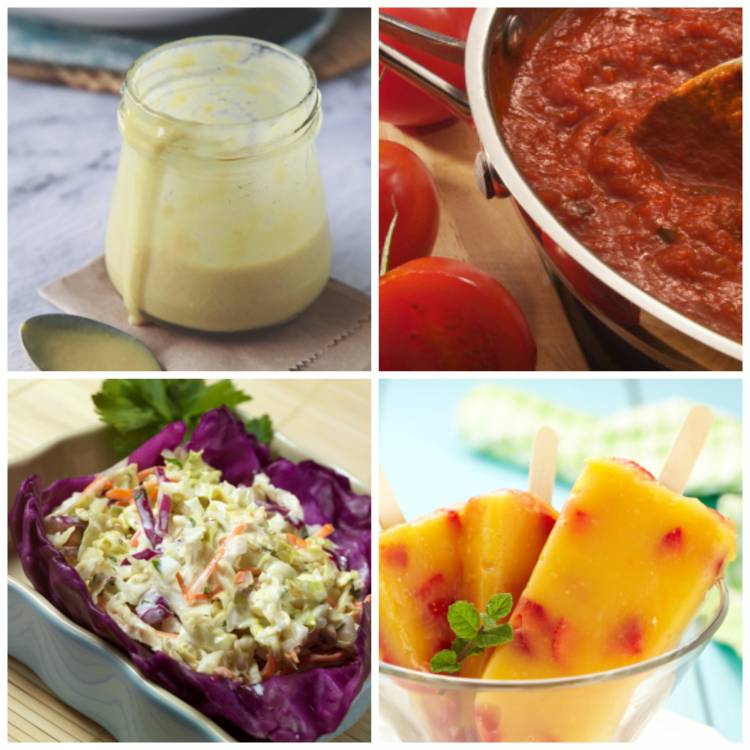 Sugar is a substance that the body finds hard to regulate – which is why when we have some we often crave more and more of it.
It sends us on a sugar high, followed by the inevitable crash afterwards.
If you want to help push your weight loss into high gear, it's a great idea to cut down on your processed sugar intake as much as possible.
Be sure to enjoy natural sugars from fruits and dairy products so that you don't feel like you are missing out.
Today we take a look at some popular grocery items, their sugar content based on common serving sizes, and some suggestions for how you could make a healthier choice.
Quite often the low fat varieties of foods have a higher sugar content than their original counterparts – mostly this is because when the fat content is lowered, companies replace it with sugar to make it taste better (which makes us want more more more).
As a rough guide, each 4g of sugar in an item is equal to 1 teaspoon of sugar.
Vaalia Strawberry Low Fat Yoghurt
100g tub has 15.7g of sugar
That's 3.9 teaspoons of sugar in one small tub
Try instead: Barambah Natural Yoghurt – this contains just 4.7g of sugar per 100g (all of which is lactose)
Deep Spring Orange and Mango Mineral Water
600ml contains 41.4g
That's 10 teaspoons of sugar in a single serve bottle
Try instead: Make our healthy Iced Mint Tea.
Cornwell's Balsamic Vinegar
4 tbsp contains 8.2g of sugar
That's 2 teaspoons of sugar over your family's salad
Try instead: to make your own healthy salad dressing

Coles Bakery ANZAC Biscuits
1 biscuit contains 9.1g
That's 2.3 teaspoons of sugar per biscuit
Try instead: make our healthier version of ANZAC's.
Praise Low Fat Mayonnaise
1 tbsp contains 4.2g
That's 1 teaspoon of sugar on top of your healthy burger
Try instead:  to cut down on its use, and substitute with sour cream (3 tbsp has 2.8g) or natural yoghurt (3 tbsp of Jalna Fat Free Natural Yoghurt has 3.3g of sugar)
Peter's Tropical Frosty Fruit Ice Block
80g block contains 16.7g
That's 4.2 teaspoons of sugar in one icy pole
Try instead: making your own healthy icy poles like these Mango Lime and Strawberry Icy Poles.
Arnott's Tim Tam Original
1 biscuit contains 8.3g
That's 2 teaspoons of sugar with every biscuit
Try instead: Mini Choc-Goji Muffins 
Kraft French Onion Light Dip
Each 185g tub contains 24.1g
That's 6 teaspoons of sugar in one tub of dip
Try instead: our delicious Chunky Guacamole recipe.
Special K Cereal Forest Berries
30g serving contains 7.5g
That's 1.8 teaspoons of sugar in your morning cereal
Try instead: to make your own healthy Overnight Oats.
MasterFoods Thousand Island dressing
330ml bottle contains 77.6g of sugar
That's 19.4 teaspoons of sugar shared with your friends on your prawns
Try instead: make our Honey Mustard Vinaigrette.
Paul's Vanilla Custard
1 cup contains 34.8g
That's 8.7 teaspoons of sugar in one adult serving of custard
Try instead:  make your own custard – this healthy recipe calls for just 1 tbsp for the whole recipe and makes more than 2 cups of thick delicious custard.
Sanitarium Up & Go Banana
250ml pack contains 19g
That's 4.7 teaspoons of sugar
Try instead:  to make your own healthy smoothie using the Healthy Mummy Smoothie mixes. One of our faves is the classic Banana Oat and Honey Smoothie.
Woolworths Select Coleslaw Dressing
300ml bottle contains 75.6g
That's almost 19 teaspoons of sugar in one salad bowl
Try instead: to make your own Healthy Coleslaw and dressing which uses yoghurt instead and still tastes incredible.
IXL Strawberry Jam Conserve
1 heaped teaspoon contains 9.7g
That's 2.4 teaspoons of sugar in one teaspoon of jam
Try instead: make our homemade Chia Berry Jam.
Ayam Sweet Chilli Sauce
1 tbsp contains 14.6g
That's 3.6 teaspoons of sugar with your homemade wedges
Try instead: making your own Sweet Chilli Sauce.
Kan Tong Sweet Soy and Garlic Simmer Sauce
600g jar contains 78g of sugar
That's almost 20 teaspoons of sugar in your family meal
Try instead: make your own healthy stir fry sauce.
Five Brothers Summer Tomato Basil Pasta Sauce
500g jar contains 17g
That's 4.2 teaspoons of sugar in one meal for 4
Try instead: make your own pasta sauce 

GET YOUR 10% DISCOUNT
If you are ready to lose weight then the Lose Baby Weight plans offer a healthy and safe exercise and diet routine and you can get a 10% discount by using code LOYALTY at the checkout
PLUS our BEST SELLING 28 Day Diet & Exercise Plan is available as a 200pg Printed Book and you can get your copy here 
Plus our NEW CALORIE BIBLE is now available – get your copy today! Only $19.95 and a must have in your handbag!
Click HERE to see our shop