You can enjoy a healthy treat this ANZAC day with these delicious and moorish biscuits that are made without butter or any added sugar. Winner!
The traditional recipe for ANZACs calls for butter, sugar, and golden syrup.
This healthy version substitutes butter for some heart healthy olive oil; and replaces the sweetness with some natural honey and vanilla.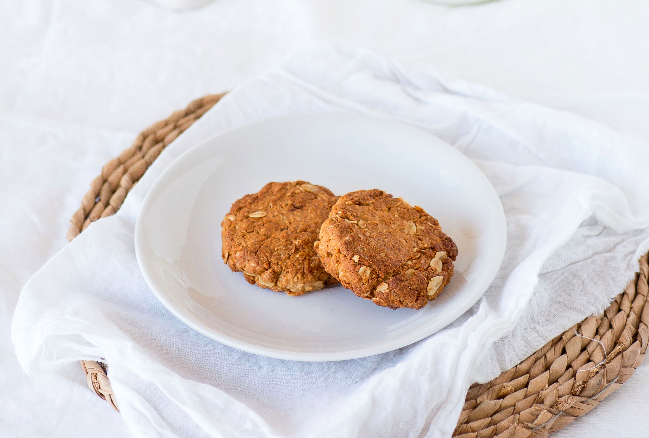 It's been thought that these biscuits were sent by Aussie wives to their husbands fighting in the First World War.
You will notice that unlike many biscuit recipes, ANZAC biscuits don't require any eggs. At the time of the First World War eggs were scarce and would also cause the biscuits to spoil when shipped such long distances.
Ingredients:
1 ½ whole rolled oats
½ cup desiccated coconut
½ cup flaked or chopped almonds
2½ tbsp olive oil
2 tbsp honey
1 teaspoon vanilla
1 tablespoon water
Method:
Preheat the oven to 150C.
In a food processor, combine the oats, coconut, almonds, oil, honey and vanilla for 30 seconds.
Add the water and process again for 15 seconds.
Using wet hands,
take a small amount of dough and shape into a ball. The recipe should make around 20 small cookies.
Place the cookies onto a baking sheet lined with baking paper and flatten down slightly, ensuring there is enough room for spreading.
Bake for 20-30 minutes until golden brown.
Cool on a wire rack before sharing. These will keep in an airtight container for 5 days, but if they last that long it will be very surprising.
Serves: 20. Calories per serve (cookie) 90.