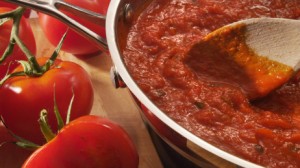 For anyone following a healthy eating plan, cutting out processed foods is sure to be on the to-do list.
Processed foods tend to sneak in extra sugar, salt, fat and preservatives and can therefore hinder our weight loss efforts.
So instead of reaching for the jar of pasta sauce, why not consider making your own? You might be surprised by the depth of flavour that comes from using really ripe tomatoes and fresh garlic. Making your own pasta sauce also allows you to control exactly what goes into the recipe (and what stays out!). 
This super simple sauce uses a range of fresh produce and gets its flavour from ingredients like chilli, garlic and vinegar, as opposed to calorific and artificial additives. The primary ingredients are full of healthful and fat fighting benefits as well.
Tomatoes

are chock full of goodness. They are a good source of vitamins (A, C, K, potassium and folate); and are low in sodium, calories, and saturated fat.

Garlic

is a well-known fat fighter. It boosts your metabolism, regulates your blood sugar, and even eliminates fat from the cells!

Red onions,

as well as packing a big flavour hit,

are great for cardiovascular health and can lower cholesterol and blood pressure.
While this particular sauce doesn't include any meat, you can use it as a base and add your own favourite ingredients.Shredded chicken breast, fetta and olives all make great additions to this family friendly meal, as do herbs like fresh basil or thyme. Yum!
Ingredients
6 ripe tomatoes (or you can use 2 x 400g tins of good quality diced tomatoes)

1 bulb of fresh garlic

2 red onions

2 small red chillis

2 tbsp olive oil

Salt and pepper, to taste

2 tbsp red wine

1 tbsp balsamic vinegar
Directions:
Preheat the oven to 200°C.
Cut the tomatoes and garlic bulb in half, quarter the red onions, and place on a baking tray with the whole chillis. If using tinned tomatoes, just add them at step 6.
Drizzle with olive oil and season well
Place in the oven for 30 minutes or until the tomatoes have softened and the garlic is soft to touch
Once cool enough to handle, take the garlic and squeeze all of the flesh out into a bowl.
Add the tomato, chilli, onion, wine and vinegar.
Whiz everything together with a stick blender until just combined.  Serve on top of your favourite pasta.
Recipe serves: 4. Calories per serve: 160
If you'd love some recipe inspiration and to see just how easy our 28 Day Weight Loss Challenge is to follow. Download a FREE recipe and exercise sampler from the challenge here


Or you can join the challenge directly here
Or you can join the 28 Day Challenge directly here
Results from mums on the 28 Day Challenge
Mums lose an average of 4-6kg (8-13 pounds) on our 28 Day Challenge and below are some of the amazing results from mums JUST LIKE YOU who are already using the 28 Day Challenge and losing tummy fat – make the change and join them today too!
You can see lots of results and you can join here too
Erin Loses a MASSIVE 44.7kgs on our 28 Day Challenges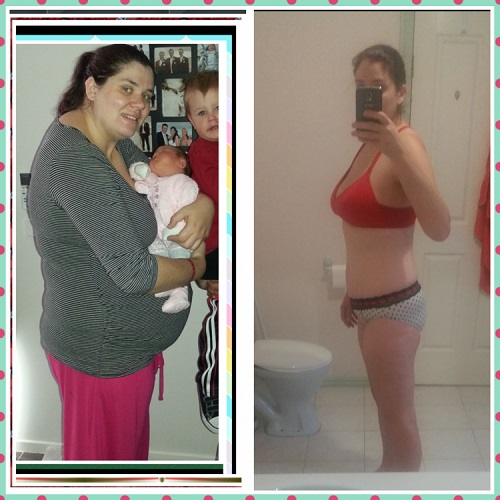 Erin says: "I love the 28 day challenge! It takes all the guess work of "what do i have for dinner" and fumbling around the fridge looking for ingredients before deciding on something "easy" (and usually not healthy!) The best thing is, after doing my weekly shop once the shopping list comes out I have everything I need to make something HEALTHY AND EASY!"
DON'T delay!
Join today and become healthier TODAY. Join 1000's of other mums on the same journey and be supported every step of the way.