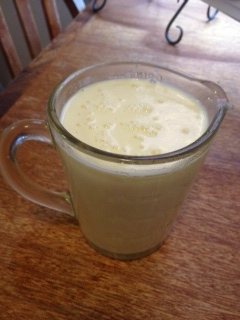 Why should kids have all the fun? Just because you have made some food for your little ones doesn't mean you can't enjoy it too.
And more often than not, if you are cooking for your children you will be using healthy nutritious ingredients that will aid you on your weight loss journey.
Sometimes it is as simple as just a change in texture that takes food from adult to kid-friendly.
Try one of these ideas and see if it brings out the child in you.
Mac and Cheese – when you are craving pasta there are ways to make it without a calorie explosion. Try our low fat mac and cheese recipe here.
Custard (pictured) – no, not the store bought kind (can you believe a lot of them contain no eggs at all?). Try this simple recipe that your kids will love as much as you. It warms you up from the inside and feels like a big cuddle. Mix 2 eggs, ½ tsp vanilla, 1 tbsp sugar and 1 tbsp of cornflour together with a splash of milk. Add 500ml of milk and cook stirring over a saucepan of simmering water until it thickens.
Pureed Fruit – it's not just for babies! Pureed fruit is great as a snack, simply serve it as is or dollop some yoghurt on top. Some of the old favourites are apple, pear and cinnamon; blueberry and banana; or mango and pineapple.
Jelly – not the sugar-filled commercial variety, but real jelly made with real fruit. Jelly is so versatile and can be a great way to use up fruit that needs to be eaten.
Mashed Vegetables – it doesn't have to be just mashed potato.  Why not try pureed cauliflower; roasted and pureed carrots; or old fashioned mushy peas? See how to make them all here.
Ice cream – once again, home made trumps the store bought kind when it comes to calories, sugar, additives and colouring. Try this amazing Banana Ice Cream which you can make at home with just two ingredients. You won't regret it.
Chocolate Pudding – who doesn't love a decadent chocolate pudding? What we normally don't love is the crazy amounts of sugar and butter in most of them. Try our very healthy recipe for Chocolate Pudding that contains the goodness of dates, avocado, coconut and honey. My toddler seems to love smearing this all over his face. You can try that too, if you like.

GET YOUR 10% DISCOUNT
If you are ready to lose weight then the Lose Baby Weight plans offer a healthy and safe exercise and diet routine and you can get a 10% discount by using code LOYALTY at the checkout
PLUS our BEST SELLING 28 Day Diet & Exercise Plan has now launched as an 84pg Printed Book and you can get your copy here 
Click HERE to see our shop