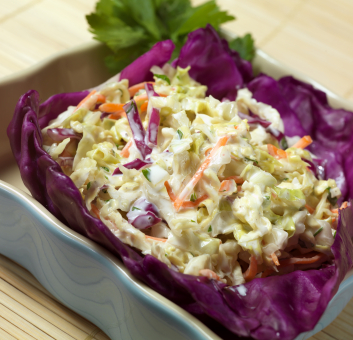 Don't be fooled into thinking that all the good veggies are only in season in summertime.
Cabbage is one of the great cool weather veggies and can be enjoyed hot or cold.
One of our family staples at a BBQ is this delicious colourful coleslaw.
Unlike your typical coleslaw which is slathered in high fat mayo, this one takes a new approach with a non fat yoghurt and spicy mustards to add flavour without the calories. Fresh herbs are optional but will take the flavours to new heights.
This salad tastes great the day it's made and will keep well in the fridge for several more days.
This versatile salad can be enjoyed with some grilled chops or steak, on a wrap with some chicken, on top of a jacket potato or with some chicken skewers.

Ingredients:
½ red cabbage
½ green cabbage
4 carrots
1 bunch coriander or parsley leaves
2 cups non-fat natural yoghurt
¼ cup Dijon mustard
2 tbsp grainy mustard
2 tbsp apple cider vinegar
Salt and pepper to taste
Method:
Use a food processor or mandolin to finely slice the cabbage and place in a large bowl.
Grate the carrots and add those in.
Rip up the fresh herbs and toss those in the bowl.
In a jar or bowl, add all of the other ingredients and shake or mix well.
Pour dressing over the veggies and chill for an hour to allow the flavours to blend.
Serves: 6. Calories per serve: 145.

GET YOUR 10% DISCOUNT
If you are ready to lose weight then the Lose Baby Weight plans offer a healthy and safe exercise and diet routine and you can get a 10% discount by using code LOYALTY at the checkout
PLUS our BEST SELLING 28 Day Diet & Exercise Plan has now launched as an 84pg Printed Book and you can get your copy here 
Click HERE to see our shop