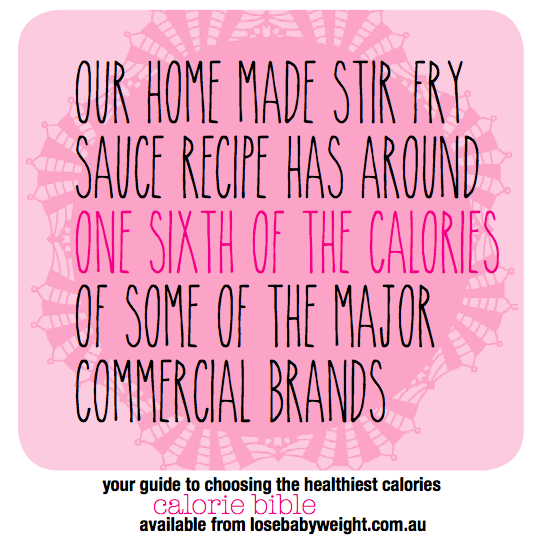 A great way to reduce your calorie intake when you are trying to lose weight is to try to reduce the amount of processed foods that you eat.
So if you feel like cooking up a stir fry or a curry, making your own sauces from scratch can be a great start.
All too often the commercial varieties (the sauces or spices that come in a jar or sachet) contain a lot more salt, sugar, additives and colourings than we would ideally like to be eating for weight loss.
But if the idea of cooking from scratch leaves you scratching your head, we can help.
You don't need a zillion different spices in your pantry, in fact you can create some amazing flavours with just a couple of key ingredients.
Here's a simple recipe for a delicious stir fry sauce that pairs perfectly with your favourite meats and veggie combinations.
The total calories is just 26 for the sauce, with 1499mg sodium and 0.1g sugar.
Compare that to some of these commercial sauces and you will see a big difference.
160g pouch of Coles Mongolian BBQ Simmer Sauce – 163 calories plus 1328mg of sodium and 19g of sugar.
500g jar of Chicken Tonight Apricot Chicken Sauce – 296 calories plus 2280mg of sodium and 42g of sugar.
600g jar of Kan Tong Sweet Soy and Garlic Simmer Sauce – 462 calories and 5802mg of sodium and 78g of sugar.
300g bottle of Asia At Home Teriyaki and Honey Stir Fry Sauce – 369 calories and 3360mg of sodium plus 59g of sugar.
You can get more calorie listings for sauces, as well as loads more healthy recipes and tips like this from our NEW Calorie Bible.
Ingredients:
1 garlic clove, finely chopped
1 red chilli, finely chopped
1 tsp grated ginger
½ stick lemongrass, white part only, peeled and finely chopped
1 tbsp fish sauce
1 tbsp oyster sauce
Method:
Simply place all of these ingredients in a frying pan over med/high heat and stir until fragrant.
Add your chopped meat and veggies and stir fry until cooked to your liking.
Total calories for the sauce only is 26, with 1499mg sodium and 0.1g sugar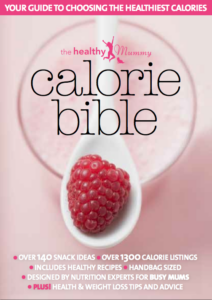 The new Healthy Mummy Calorie Bible has some great recipes for making your own curry from scratch, as well as a simple pasta sauce recipe.
PLUS there's a whole page dedicated to recipes for low calorie dressings, salsas and marinades. Have a peek here.

Get Our NEW CALORIE BIBLE HERE today! Only $19.95 and a must have in your handbag!
GET YOUR 10% DISCOUNT
If you are ready to lose weight then the Lose Baby Weight plans offer a healthy and safe exercise and diet routine and you can get a 10% discount by using code LOYALTY at the checkout
PLUS our BEST SELLING 28 Day Diet & Exercise Plan is available as an 84pg Printed Book and you can get your copy here 
Plus our NEW CALORIE BIBLE is now available – get your copy today! Only $19.95 and a must have in your handbag!
Click HERE to see our shop