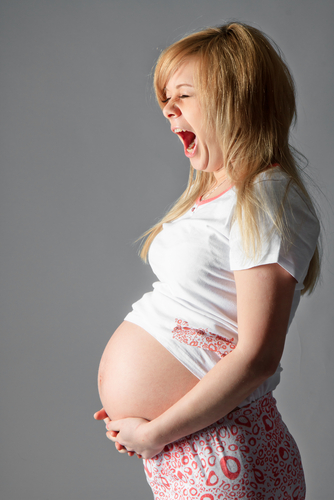 When you are 'with child' every emotion can feel heightened.
You cry whilst watching the news, you get super cranky when you're hungry, you're extra sensitive to changes in temperature, and you feel tired. So, so tired.
So what to do when you are pregnant and have another child (or two or three…) to look after?
Today we have some tips to put the spring back in your step, improve your mood, and get you feeling better than ever.
Try A 15 Minute Power-Rest
It's more important than ever to look after yourself. But at the same time it's not likely that you'll be able to dedicate your afternoons to some quality nap time.
OK, so you can't get a full hour's sleep in, but why not allow yourself a 15 minute zone-out time? When the kids are having a nap (lucky things) or watching their favourite show on TV, allow yourself the time just to do…nothing.
Lie down with your eyes shut and just rest. You will be surprised how much better you feel even after a little micro-rest like these. Even better if you can fit in two per day.
Eat to nourish yourself and your baby
Sure you might feel like eating nothing but cereal or dry toast, but the foods that you put into your body have a big effect on your mood.
Try to be mindful at each meal or snack that you are consuming something that is beneficial for you and your little one.
Breakfast:
Some healthy breakfasts include Bircher Muesli or a Healthy Mummy Smoothie.
Snacks:
A great snack for morning or afternoon tea would be some natural yoghurt with berries and a drizzle of honey; or make yourself something tasty that's good for you too such as our Wholegrain Banana Bread which should last you for a few snack times if the kids don't spot it.
Lunch:
For lunch you could try roasting up your favourite veggies to make a simple salad like this Pumpkin and Parmesan Salad; prepare a frittata that will last for a few days as eggs are a great source of energy; or make these delicious Rice Paper Rolls with leftover roast meats and salads.
Dinner:
Grab our Summer Cookbook for some delicious meal ideas that the whole family will love. While we don't recommend trying to lose weight while pregnant, the book does include lots of healthy recipes that are perfect for warmer weather (and the whole family can enjoy them with you).
Try to go for a walk each day
You may not feel like peeling yourself off the couch, but in fact a little bit of light exercise is a great energy booster. Getting outdoors will help to clear your head and all that fresh air is a natural way to feel more awake. It also helps you to get 'the glow'.
Cool off with a healthy summer dessert
Fruit is a great way to get some energy, but if you don't feel like nibbling on an apple in the heat you can get your intake in other ways.
Try these delicious Mango Lime & Strawberry Icy Poles or use your favourite fruit to make a delicious One Ingredient Fruit Sorbet.
We also love this Raspberry Frozen Yoghurt – using frozen berries is fine and means you can make it anytime the mood strikes.
Consume protein for energy
Protein helps to keep you fuller for longer (which is especially handy if you're struggling to keep much down). It also helps to give you energy.
Healthy snacks like these simple-to-make Chocolate Chip Chickpea Cookies are perfect for a morning or afternoon tea (the kids will love helping you to make them too).
Steer clear of high sugar foods or anything greasy
If you are not feeling too good, you may be craving foods like hot chips or cakes. And while you may feel as though you can't resist them, try to think about how they will make you feel afterwards.
Food like this will zap your energy, leaving you feeling lethargic and possibly a little bit nauseous.
Try to overcome it by cutting down the craving with a healthy option. Feel like chips? Make your own sweet potato wedges. Fancy a cake? Try this healthy Chocolate Cake.
Can't stop thinking about a chocolate bar? Make a pile of these lovely Date and Almond Balls and they will satisfy any sweet tooth (also great for toddler bribery as it tastes just like a chocolate).
Keep cool in the pool
If you are feeling the heat, why not arrange with a friend to take the kids to a local pool (or make friends with the pool-owning neighbour!). By going with another adult, you might even snag a few minutes for a well-deserved float in the water. This will not only cool you off but is also great for your tummy as it reduces the pressures of gravity for a while.
Reduce your sugar intake from drinks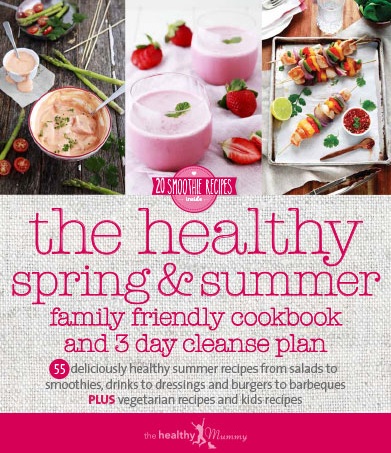 When you feel like a refreshing drink, water is definitely the best choice. The sugar or sweetener in soft drinks is going to give you a hit of energy – followed by the sugar crash afterwards which leaves you craving more more more.
Go for sparkling water with a splash of juice in it, or try making our refreshing Iced Mint Tea.
Our Summer Cookbook has many other healthy drinks that you can enjoy without the addition of any sugars – such as Ginger Iced Tea, Grapefruit Earl Grey Iced Tea or Apple Iced Tea. They are a great way to enjoy something fun and fruity.

GET YOUR 10% DISCOUNT
If you are ready to lose weight then the Lose Baby Weight plans offer a healthy and safe exercise and diet routine and you can get a 10% discount by using code LOYALTY at the checkout
PLUS our BEST SELLING 28 Day Diet & Exercise Plan is available as a 200pg Printed Book and you can get your copy here 
Plus our NEW CALORIE BIBLE is now available – get your copy today! Only $19.95 and a must have in your handbag!
Click HERE to see our shop