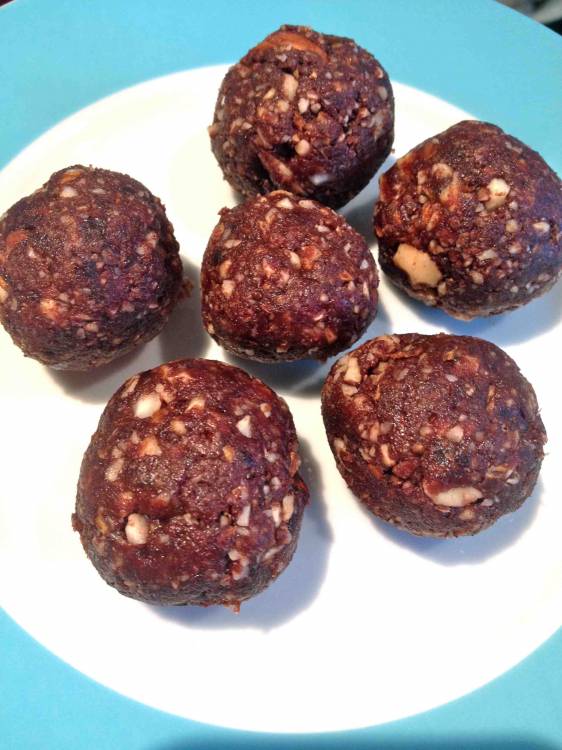 Today we have a sweet treat that is sure to satisfy any chocolate bar cravings.
These all-natural energy balls are sweetened with dates and a little bit of honey, instead of a typical protein ball or energy bar that is usually packed with sugar.
Loved by adults and kids alike, these energy balls are full of the natural goodness of nuts, fruit, coconut and cacao.
If you don't have any almonds you can really substitute freely.
Walnuts, hazelnuts and even cashews would work well. A mixture of whatever you have in the pantry cupboard would be lovely too.
Coconut oil is great for recipes like this. It is liquid when warm and solidifies when cold, so when you chill the energy balls the solidified coconut oil helps to bind them together – no butter required!
Do be sure to use a food processor for this. Speaking from experience, a blender tends to leave you with everything stuck together in the bottom (as there isn't a lot of liquid).
These tasty treats would make a lovely gift for Christmas. You could pretty them up by dusting them with more cacao or cocoa; rolling them in desiccated coconut before chilling; or even by adding some rum-soaked sultanas for an adults only option.

Ingredients:
1 cup of raw, whole almonds
1 cup of fresh dates (or soak dried dates for 2 hrs prior to using)
1 tbsp natural peanut butter (or any nut butter)
3 tbsp coconut oil
3 tbsp cacao (or good quality cocoa)
2 tsp cinnamon
1 tbsp honey
Method:
Process the almonds until they are like crumbs.
Add the rest of the ingredients and process until well combined.
Using wet hands, roll the mixture into balls and place on a plate.
Chill in the fridge for an hour to set (if you can wait that long)
Makes: 20 balls. Calories per ball: 100.

Need to stock up on Healthy Mummy Smoothies? Then see our shop here
And join our 28 Day Weight Loss Challenges here