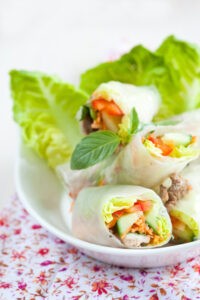 If you love the fresh flavours of Vietnamese food, you'll love these.
Packed with crunch and flavour, these little rolls are perfect for a light dinner, to pop in a lunch box, or to serve as an appetiser.
They are very low in calories, fat and sugar and are a great way to get the recommended 5 serves of veggies per day.
We've got a great recipe here for a chicken and vegetable roll. But there is no limit to the great flavour combinations that you can try.
You could even just lay out the ingredients and let your family and friends roll their own.
Ideas for other flavour combinations:
Chicken, capsicum, lemongrass, basil and lime juice
Tofu, brown rice, mushroom and shallots
Duck, mango, coriander, mint and red onion
Pork, ginger, carrot, coriander and sesame seeds
Beef, garlic, mint, pineapple and vermicelli noodles

Ingredients:
8 rice paper wrappers
1 cup shredded BBQ chicken
1/2 cup shredded iceberg lettuce
1 red capsicum, cut into strips
1 small carrot, peeled, grated
1 medium Lebanese cucumber, cut into strips
Small bunch of coriander
2 tablespoons of hot chilli sauce
1 tablespoon of soy sauce
½ lime, juiced
Method:
Half fill a large bowl with warm water. One by one, dip the rice paper wrappers in water, then place on a damp tea towel for 30 seconds before filling.
Place one-eighth of the lettuce along 1 edge of the wrapper. Top with one-eighth of each of the chicken, capsicum, carrot, cucumber, and coriander.
Fold in at the ends and then roll up firmly to close. When finished, cover the roll with a damp tea towel to prevent it from drying out.
Repeat with remaining wrappers, placing each under the damp towel.
To make the dipping sauce, combine the hot chilli sauce, soy sauce and the lime juice and pop into a small bowl.
Enjoy!
Serves: 4. Calories per serve: 229

Need to stock up on Healthy Mummy Smoothies? Then see our shop here
And join our 28 Day Weight Loss Challenges here