Do you ever have nights when someone asks 'what's for dinner?' and you feel like saying 'I have no idea!'
Those days are over now that you have this recipe – it's saved me many times!
So long as you have eggs, cheese, and some veggies in the house you've got a meal.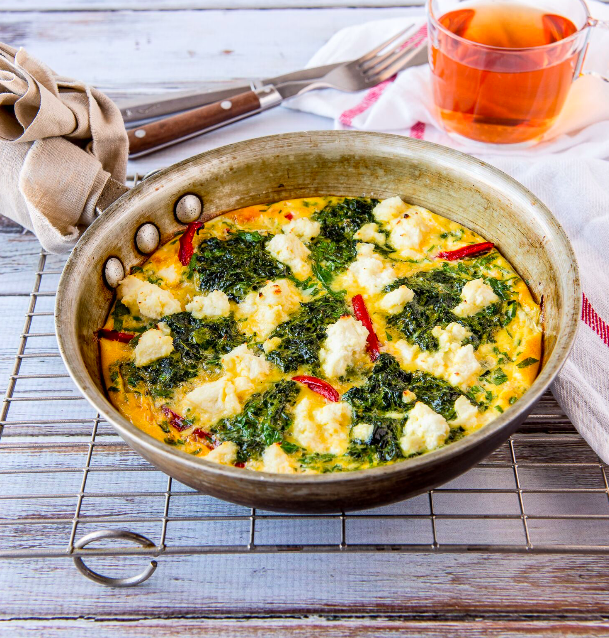 This recipe is for a spinach and feta frittata, but to be honest you can substitute ½ a cup of any veggies you like for the spinach.
You could try ½ a cup of chopped mushrooms, red capsicum or even delicious chunks of fresh asparagus. Go for what's in season and you will also save at the checkout.
If you don't have the feta you could just sprinkle the top with some grated cheddar or parmesan.
Anything goes! This is a great low calorie meal for a weeknight.
 Ingredients:
1 teaspoon olive oil
½ a small brown onion, peeled and finely sliced
1 tsp garlic
250g baby spinach
4 eggs
½ cup crumbled feta cheese
Salt and pepper, to taste
Method:
Preheat your grill to medium-high heat.
Using a non stick frying pan that you can put under the grill, heat the oil over a medium heat.
Add the onion and cook until just starting to brown. Add the spinach and toss for a minute or two until it begins to wilt. Remove from the heat and allow to cool.
Beat the eggs in a bowl. Add in the cooled spinach and onion, and then the feta. Season to taste.
Put your frying pan back on a medium heat and add the eggs. Stir gently with a spatula until you feel the egg start to set on the bottom. Turn off the heat so the frittata stays quite runny.
Place your frying pan under the grill for 2 to 3 minutes, or until the frittata is golden and cooked all the way through (check with a fork.)
Place a plate over the pan and turn over quickly but carefully to release the frittata. Serve hot or cold with a crispy side salad.
Serves: 4. Calories per serve: 153.