Chocolate cake is almost universally loved but can also easily derail good intentions of healthy eating with its high fat and calorie content. This Lose Baby Weight version has some surprisingly healthy ingredients…
Did you know that zucchini can be used as a substitute for oil in baking? It has a mild flavor and slippery texture that makes it the perfect alternative for a fraction of the calories, none of the fat and it's nutritious too! This recipe also uses beetroot which goes really well with the cacao and adds a lovely earthy flavor.
The other key ingredient is coconut sugar, which can replace regular sugar 1:1 and has a sweet caramel flavor. It's made from the sap of the coconut palm and has a low GI, resulting in greater satiety and helps avoid a spike in blood sugar levels. It's also rich in potassium, iron and magnesium as well as a number of vitamins. However it does contain the same calories as regular white sugar so moderation is important for weight loss.
The creaminess of the ricotta in the sauce should negate the need for cream, commonly served with other cakes. This cake can be eaten with or without the sauce, which can be served immediately as a hot sauce or cooled and spread over the cake as an icing.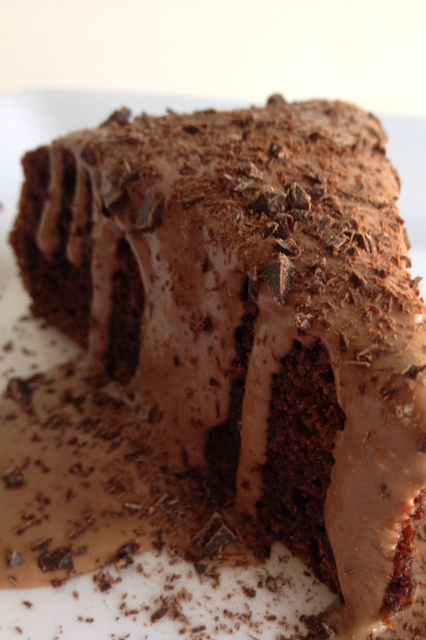 Ingredients
2 eggs
¾ cup zucchini puree
1 cup of coconut sugar
1 ¼ cups wholemeal flour
½ cup raw cacao (or cocoa)
1 tsp of olive or coconut oil
1 ¼ tsp baking powder
½ tsp salt
1 tbsp vanilla essence
1 cup beetroot puree
Sauce
160ml smooth light ricotta
40 grams dark chocolate
10ml vanilla essence
1 tbsp coconut sugar
2 tbsp skim milk


Method
Cake
1)       Preheat oven to 180
2)       Wisk together eggs, oil, sugar, zucchini puree and vanilla.
3)       Sift together flour, baking powder and cacao then stir into wet ingredients along with pureed beetroot, until well combined.
4)       Bake at 180 for approximately 30-45mins. Once done, remove from pan and place onto cooling rack.
Sauce
1)       Break dark chocolate into small pieces
2)       Combine all ingredients together in a saucepan, and stir over a low heat until chocolate has melted.
3)       Pour over individual slices to service immediately as a hot sauce, or chill in the fridge to spread over as frosting.
Serves 8
151cal / 634kj per serve without sauce
213cal / 893kj per serve with sauce

Need to stock up on Healthy Mummy Smoothies? Then see our shop here
And join our 28 Day Weight Loss Challenges here