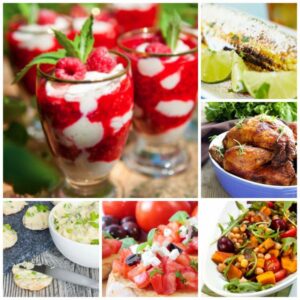 If you're in charge of preparing Christmas lunch for family and friends, we've got some healthy and delicious options for each course right here.
At Christmas time it can be easy to get caught up in the mentality of indulgence and excess – but it doesn't have to be that way.
Catching up with friends and family doesn't have to mean that your healthy eating goes out the window.
In fact, by offering a healthy selection of food your guests will most likely feel great after lunch (instead of needing a nap!).
Starters and Appetisers
Think light and tasty, rather than heavy or fried. Make the most of seasonal produce to make healthy options like homemade dip, fresh bruschetta, or tasty savoury bites.
Mains
Keep things simple and choose mains that don't require too much attention.
We love these 'set and forget' options which you can even prepare the day before and serve cold if you prefer.
Salads and Sides
Here is your chance to dazzle your guests with good quality, colourful seasonal produce.
Add summer berries and fruits, roast your favourite veggies to toss through a cool salad, or grill some corn to add some crunch.
Desserts
Once again, it's all about being able to prepare ahead of time.
Make these healthy desserts the day before so that you can enjoy time with family instead of being stuck in the kitchen.
We've got desserts using summer berries, fresh ricotta, baked fruit and of course there's a chocolate option too.
Desserts For Kids
For the little people, desserts need not be too complicated.
You can't really go wrong with fresh fruit and chocolate – why not make a few and let them choose their favourites.

GET YOUR 10% DISCOUNT
If you are ready to lose weight then the Lose Baby Weight plans offer a healthy and safe exercise and diet routine and you can get a 10% discount by using code LOYALTY at the checkout
PLUS our BEST SELLING 28 Day Diet & Exercise Plan is available as a 200pg Printed Book and you can get your copy here 
Plus our NEW CALORIE BIBLE is now available – get your copy today! Only $19.95 and a must have in your handbag!
Click HERE to see our shop