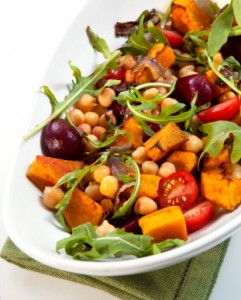 When you are on a healthy eating plan it's important not to get stuck in a food rut, where you are eating the same thing day after day.
A great way to mix it up is to try different combinations or roasted and fresh vegetables.
This simple recipe makes it easy to get your daily recommended 5 serves of vegetables in one flavour packed hit and really is the ultimate fat fighting dinner that also tastes delicious.
Chickpeas are a great addition to any salad. They pack a flavour punch but also give you a good kick of protein as well. They are low in fat and are also one of the best sources of fibre you can find.
Beetroot isn't only good for staining your fingers and trousers. This superfood has the trifecta – it's low fat, low GI and low in calories.
Pumpkin is an antioxidant and an anti-inflammatory food. So it can improve the health of your joints, your vital organs, and even reduce stress.
Rocket is packed with vitamins A and C, and has plenty of fibre too. It's peppery flavour adds a kick to any meal.
Tomatoes are also full of vitamins A and C, but they also have calcium, potassium and lycopene (which can help to prevent heart disease and cancer).
Ingredients:
1 x 400g tin whole baby beets, drained
1 x 400g tin chickpeas, drained and rinsed
400g rocket lettuce, washed
250g pumpkin, cubed
1 onion, cut into chunks
1 x 200g pack of cherry tomatoes, washed and cut in half
2 tablespoons of olive oil
1 tablespoon of balsamic vinegar
½ teaspoon Dijon mustard
1 garlic clove, minced
Salt and pepper, to taste
Method:
Heat your oven to 200C. Remove the skin and seeds from the pumpkin and cut into chunky cubes. Place on a baking tray lined with baking paper along with the onion, and drizzle over 1 tablespoon of olive oil. Sprinkle with salt and pepper and place in the oven for 40 minutes or until golden, turning half way through.
Meanwhile, make your dressing by placing 1 tablespoon of olive oil, the balsamic vinegar, mustard, garlic and salt and pepper into a small jar. Give it a good shake and set aside.
In a large bowl combine your rocket, tomatoes, beetroot, and chickpeas. Add the pumpkin once it's finished roasting, and top with the homemade dressing.
Plus if you love chilli, add some chopped red chilli at the end for an extra metabolism boost and taste kick!
Serves: 4. Calories per serve: 297.

GET YOUR 10% DISCOUNT
If you are ready to lose weight then the Lose Baby Weight plans offer a healthy and safe exercise and diet routine and you can get a 10% discount by using code LOYALTY at the checkout.
Click HERE to see our shop