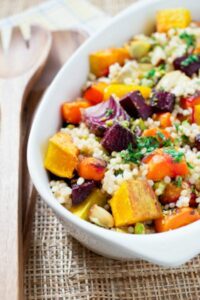 We love recipes like this. In a nutshell, put everything on a tray, let it roast for an hour, and then come back and toss through a few other tasty ingredients and you've got dinner sorted. And lunch the next day. Too easy.
Cous cous is such a versatile grain, it seems to just soak up the flavours of whatever you put with it.
Using chicken stock instead of water gives it an extra flavour punch. You could even use 2 cups of freshly brewed peppermint tea instead of the chicken stock if you wanted to try something different.
This salad is delicious on its own or works well as a filling side to a roast chicken breast or steak.
Sometimes we add a shredded BBQ chicken to it which is nice if you wanted to increase the protein content.
Use whatever vegetables you have on hand, there are no set rules for a salad like this.
Ingredients:
½ a medium sized pumpkin, peeled and chopped into cubes
1 full head of garlic, broken up into cloves
2 medium carrots, peeled and chopped into 2cm chunks
2 red onions, peeled and cut into chunks
2 beetroot, trimmed and wrapped in foil
1 tbsp olive oil
Salt and pepper
Small bunch of fresh parsley
1 cup of cous cous
2 cups of chicken stock
50g feta cheese, crumbled
2 tbsp balsamic vinegar
Juice of half a lemon
Method:
Preheat your oven to 200C and line two trays with baking paper.
Prepare all of your vegetables and place them in a large bowl. Add the oil, salt and pepper and toss to coat.
Place in the hot oven and roast for around an hour, turning once half way through. You want the veggies to be lovely and golden with some nice roasted edges.
While that's cooking, place the cous cous and stock into a bowl and set aside for 5 minutes. Fluff up with a fork, then add the parsley and feta.
When the vegetables are done, remove the foil from the beetroot and cut it into chunks. Add all of the veggies to the cous cous. Top with the balsamic and the lemon juice and serve.
Serves: 6 as a side dish. Calories per serve: 235
Serves: 4 as a main. Calories per serve: 352

GET YOUR 10% DISCOUNT
If you are ready to lose weight then the Lose Baby Weight plans offer a healthy and safe exercise and diet routine and you can get a 10% discount by using code LOYALTY at the checkout
PLUS our BEST SELLING 28 Day Diet & Exercise Plan has now launched as an 84pg Printed Book and you can get your copy here  
Click HERE to see our shop