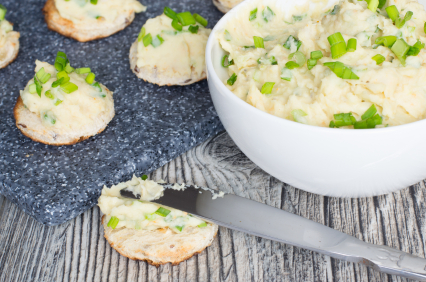 Keeping a few tins of legumes in the pantry is a great way to ensure you always have healthy food on hand.
Tins of lentils can make a veggie burger patty, chickpeas can make you some falafel, and a tin of cannellini beans can make this delicious dip.
Dip is often a favourite snack, but all too often the store bought dips contain sugar, excessive oils, and quite often not too much of the actual vegetable that they are supposed to (there is one popular brand of guacamole that contains just 8% avocado).
Making your own healthy dips at home still feels like a special treat. Enjoy this with some good quality wholegrain crackers, carrot or celery sticks, or with some lightly steamed florets of broccoli or cauliflower.

Ingredients:
400g tin of cannellini beans, drained and rinsed
2 + 1 tbsp olive oil
Juice of ½ a lemon
100g tin of tuna, drained
1 cup of parsley leaves, chopped
2 green shallots, chopped
Salt and pepper, to taste
Method:
In a food processor, bring together the beans, 2 tbsp olive oil, lemon juice and tuna until it is combined but not totally smooth.
Season to taste.
Pour into a bowl and add the parsley and shallots.
Drizzle with the extra 1 tbsp olive oil before serving.
Serves: 8. Calories per serve: 99.

Need to stock up on Healthy Mummy Smoothies? Then see our shop here
And join our 28 Day Weight Loss Challenges here