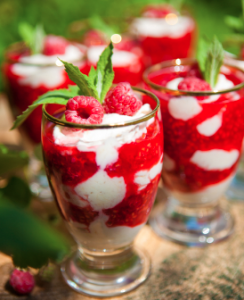 Berries are super-high in antioxidants, making them very good for your health in general – but they are also low in calories and fat, making them a great weight loss food to include into your diet.
Many berries are also known to contain nutrients such as phenol, which is known to protect us from heart disease and to reduce our risk of certain types of cancers.
Berries are high in fibre too, making them filling – perfect for breakfast. Here's five ways with berries.
Iced Berries with Choccy Sauce
Ingredients:
125g each raspberries, blackberries, blueberries and redcurrants
150ml skim milk
100g dark 70% cocoa chocolate, grated or broken into pieces
1 egg white
1 tbsp honey
Method of Preparation:
Toss the berries in the egg white and then in the honey. Place in a single layer on a baking tray, then freeze for a couple of hours.
Make the sauce by heating the milk in a small saucepan. Add the chocolate and stir, gently, over a low heat until the chocolate has melted into the milk.
Serve the iced berries in a bowl with the sauce over the top.
This surprisingly decadent pudding or breakfast has just 255 calories per serving. Make it lower in calories by serving with a bit of vanilla yoghurt instead
Minted Raspberries with No-fat Lemon Sorbet
Ingredients:
400g punnet raspberries
Small handful mint leaves
2 lemons, unwaxed
100g stevia (a natural sweetener such as stevia drastically cuts the calorie content)
500ml water
Method of Preparation:
Finely chop the mint leaves. Chop the lemons up, then put into a food processor with the stevia and water and blend until the lemon is pulpy. Strain through a sieve into a shallow container.
Take about 50ml of the liquid from the container and put into a small saucepan, then put the container into the freezer. Freeze until relatively firm, then pop back into the blender and blitz until you have a smooth, icy consistency. You can then either serve it straight away, or put it into the freezer to firm up for a bit longer. Meanwhile, simmer the liquid in the saucepan until thickened and syrupy.
Stir the raspberries, lemony syrup and the chopped mint leaves together. Spoon the lemon sorbet into glasses and top with the raspberries.
This would be a lovely summertime dessert or snack, but would be equally yummy as a dinner party pud. Recipe serves 4, calories per serving: 124

Nutty Berry Mess
Ingredients:
400g punnet strawberries or raspberries or half and half
200g low fat ricotta cheese
1 tsp. vanilla extract
2 tbsp. runny honey
50g roast chopped nuts
Method of Preparation:
Divide half of the berries between four glasses. In the ricotta tub, mix the vanilla into the cheese and beat with a spoon until softened and smooth.
Divide half the ricotta between the four glasses, top with the rest of the strawberries and then the rest of the ricotta. Finish each glass with a drizzle of runny honey and a sprinkle of chopped nuts.
Use mixed berries or plain raspberries instead of the strawberries if you want to. This recipe serves 4, calories per serving: 159.
Fizzy Berry Smoothie
Ingredients:
300g mixed berries of your choice
2 tbsp of any of the nutritional mixes on the Lose Baby Weight shop
2 small bananas
Fizzy mineral water
Method of Preparation:
Peel and chop the banana. Put into a blender with the berries and whiz until smooth then add the fizzy water and blitz. Add as much or as little water as you like, according to the consistency you like.
There isn't really a better breakfast than a smoothie and this is a super simple smoothie to make. Recipe serves 2, calories per serving: 124.
Raspberry and Mango Salad
Ingredients:
200g raspberries
1 mango
200ml fruit juice of your choice
1 tbsp. honey
Method of Preparation:
Put the juice and honey into a small saucepan. Bring to the boil, simmer for ten minutes or so then leave to cool.
Peel the mango and remove the stone, then dice into small squares. Toss in a bowl with the raspberries.
Pour the syrup over the raspberry and mango then serve.
The fruit juice syrup just helps to sweeten this salad up a bit – plus, it makes it a little more kid friendly. This recipe serves 2, calories per serving: 126.