We have all heard by now that air-popped popcorn is high in fibre and low in calories. It's also a gluten-free, whole-grain snack that fits into any healthy eating plan. But have you ever thought about combining this amazing food with dark chocolate?
Dark chocolate has numerous health benefits including being high in anti-oxidants – but needs to be enjoyed in moderation due to its high fat and calorie content.
This healthy eating recipe will give you your chocolate fix- without the calories and uses what we believe to be the world's easiest way to make popcorn.
It can also be enjoyed as dairy-free and vegan with one simple variation, or modified to add cinnamon, sea salt, chili flakes or anything else you fancy.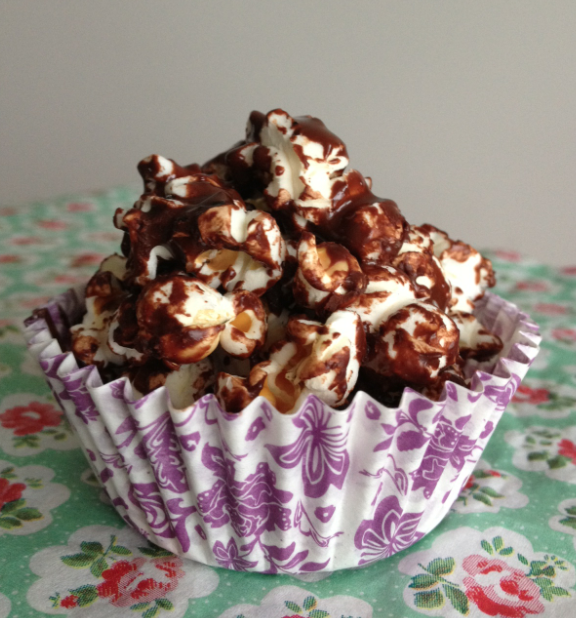 Ingredients
90g 70% dark chocolate, broken into small pieces*
¼ cup popcorn kernals
1tsp coconut oil
*Dairy-free and vegan version
40g/40ml coconut oil, melted
50g organic raw cacao powder
Stevia to taste (optional)
¼ cup popcorn kernals
Method
Place popcorn kernels in a brown paper lunch bag and fold over the top edge with two shallow folds
Place in the microwave for approximately 2 minutes
Open the bag and with loose fingers of both hands, scoop out fully-popped popcorn into a large bowl
Leave popcorn to cool
In a small saucepan, melt coconut oil over a low heat, according to preferred variation (1tsp or 40g/40ml).
Either add the dark chocolate and stir over heat until melted or remove the coconut oil from heat and stir in cacao powder and stevia. Let cool slightly
Using a spatula, drizzle one scoop of chocolate mixture over the popcorn then stir. Keep doing this until all the chocolate has been used.
Spoon into patty-cases and let chocolate set in a cool place (refrigerate if a warm day)
Best eaten the same day but will keep for two days in an airtight container
Serves 18, 30 cal per serve.