If you've got a hungry family to feed, or friends coming over for dinner – this is a great recipe to have up your sleeve.
While good old fashioned roast beef is delicious as is, this cooking method not only tastes amazing it also fills the kitchen with the most wonderful cooking aroma.
If you don't have any wine you can always just substitute more stock, but the wine does give a lovely deep flavour. And of course the cooking process removes the majority of the alcohol content.
Try serving this meal with some healthy roasted veggies such as sweet potato, zucchini, carrot and pumpkin.
It's also nice to have some fresh greens on the side, so why not prepare some peas, green beans, snow peas or Brussels sprouts to go with it.
The cooking time will vary depending on the size of your joint and how well you like your meat cooked.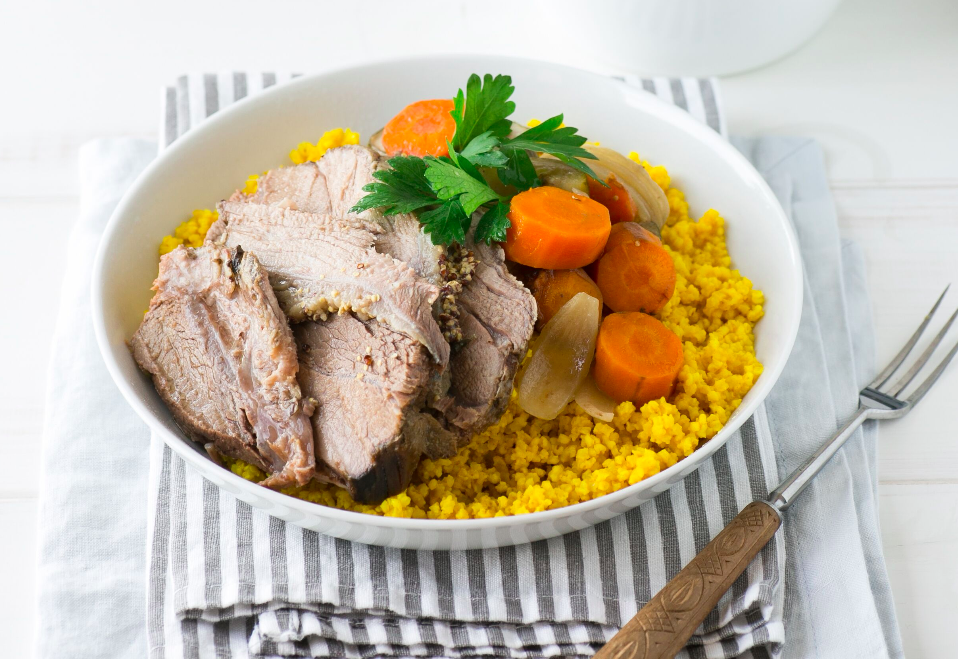 Simply pierce the largest part of the beef with a knife to have a peek inside and check the colouring when you think it seems done.
Ingredients:
1 large piece of beef, suitable to roast, such as blade (approx 1.7-2kg)
2 tbsp olive oil
2 red onions
5 large mushrooms
1 tbsp black peppercorns
2 tbsp tomato paste
1 ½ cups beef stock
1 ½ cups red wine (or just use stock)
Method:
Heat your oven to 180C.
Place a large pan (ideally one you can transfer to the oven) over high heat.
Heat the oil, and then add the beef.
Cook on all sides until golden brown, then set aside.
Place the red onion, mushroom and peppercorns into the pan and cook, stirring, for around 3 minutes.
Add in your tomato paste, stock and wine then bring the liquid to the boil.
Place the beef back in the pan, fat side down, and place a lid on top.
Cook in the oven for around 1 ½ to 2 hours, depending on the size of your beef and your preference for how cooked you would like it to be.
Around an hour before the end of the cooking time, add your roast veggies to the oven so that they are ready at the same time as the meat. Turn half way through.
When the meat is ready, remove it from the pan and set aside to rest while you make the gravy.
Place the pan back onto a high heat. Scrape all of the mushroom, pepper and onion pieces from the bottom of the pan. If there isn't much liquid left in the pan, add some more (use half stock, half wine) and whisk to combine.
Slice up the roast beef and serve with the gravy.
Serves: 6. Calories per serve: 380 (meat and gravy only)