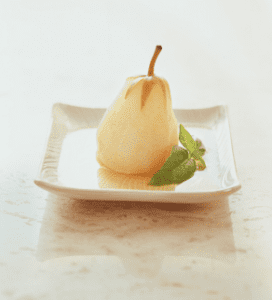 Pears are a deliciously sweet and versatile fruit that are packed with health-boosting nutrients and can help with weight loss.
They are chock full of fibre, meaning that they will stem hunger pangs and will keep you fuller for longer, and they also contain a type of soluble fibre which helps to lower your LDL levels, also known as 'bad' cholesterol.
This type of fibre also helps to promote a healthy digestive system, which means that you'll digest your food much more easily and are ideal for weight loss.
When pears are ripe, they also contain loads of antioxidants, helping to protect you from damaging free radicals. Here is our pick of 5 weight loss recipes with pears.
Baked Pork with Pears
Ingredients:
2 pears
2 red onions
4 pork steaks, 175g each, trimmed of all fat and sinew
1 sprig of rosemary
Salt and pepper
Oil spray
50g low-fat soft cheese with garlic and herbs
Method of Preparation:
Peel the onions and chop into chunks. Quarter the pears and remove the cores, leaving the skin on. Finely chop the rosemary leaves
Put a roasting tin onto your hob over two rings. Spritz your tin with oil spray, add the onions, pears, rosemary and salt and pepper and cook for about 10 minutes until browned and softened.
Add the pork steaks to the roasting tin and fry for 5 minutes or so on each side, until golden brown and cooked through.
Dollop the cheese over the pork and the pears, then leave over the heat for a minute or two just to melt down slightly.
Leave the cheese out if you want to, although it does lend a little extra flavour. Recipe serves 4, calories per serving: 291.
Creamy Baked Pears with Amaretti Biscuits
Ingredients:
4 ripe pears
100g low fat ricotta cheese
1 tsp. vanilla extract
Good pinch ground cinnamon to taste
4 tbsp. clear runny honey
8 amaretti biscuits
Method of Preparation:
Slice the pears in half lengthways and remove the seeds and core.
Stir the ricotta in the tub with the vanilla just to soften it slightly. Add a bit of the cinnamon, reserving some to sprinkle over the top later.
Divide the cinnamon ricotta between the pear halves, then drizzle the pears with half of the honey and sprinkle with the rest of the cinnamon.
Bake in a 190C oven for ten minutes. Meanwhile, put the biscuits into a food processor and whiz up until they are roughly processed, then sprinkle over the pear halves.
Put back into the oven for another ten minutes then drizzle with the remaining honey to serve.
You could use ginger biscuits instead of amaretti biscuits if you want to. Recipe serves 4, calories per serving: 188.
Pears with Berry Syrup
Ingredients:
4 pears, peeled, halved and cored
4 x tbsp honey
2 mixed berry fruit teabags
1 tbsp of jam of your choice (cranberry, redcurrant, strawberry, raspberry etc.)
50g berries of your choice (cranberries, redcurrants, strawberries, raspberries etc.)
600ml boiling water
Method of Preparation:
Put the honey, teabags, jam and water into a large saucepan and bring to the boil, stirring together. Add the pears and poach gently for 12-18 minutes until tender – test them with a knife. When they fall off the knife very easily, they are done.
Remove the pears and place into serving dishes, then bring the syrup back to the boil and simmer for 5 minutes or so until thickened, then add the berries and cook for 3-4 minutes until they begin to soften slightly.
Serve the berry tea syrup over the pears, discarding the teabags to serve.
You could always add a cinnamon stick and some vanilla to the syrup for extra flavour. Recipe serves 4, calories per serving: 130.
Fried Spiced Pears
Ingredients:
4 ripe pears, peeled, cored and quartered
Oil spay
Salt and pepper
½ red chilli, or good pinch of chilli flakes or chilli powder
1 tbsp. minced ginger, jarred or fresh
Good pinch of paprika
½ tsp. minced garlic, optional
Method of Preparation:
Finely chop the chilli, removing the seeds.
Heat oil spray and butter in a frying pan. When the butter has melted, add the chilli, ginger, paprika and garlic and a good pinch of salt and pepper. Cook for 30 seconds or so then add the pears.
Stir well to combine and fry for 2-4 minutes on either side until golden and tender, then serve.
Serve this as a side dish to a main course, or cooked with chicken or pork for a lovely, filling meal. This recipe serves 4, calories per serving: 91.
Crunchy Nut Pears
Ingredients:
4 pears
50g rice crisps, corn flakes or mini wheat bites, sugar free
25g chopped toasted nuts
1 tsp. olive oil
2 tbsp. runny honey
Method of Preparation:
Heat the oven to 200C. Cut the pears in half, leaving the skin on, and scoop out the core.
Divide the olive oil between the pears – you only need a tiny bit, then sprinkle with a little bit of cinnamon.
Cook the pears for about 5 minutes then remove from the oven. Heat the honey in a pan or in a cup in the microwave so it melts down a bit then toss with the nuts and rice crisps.
Top the pears with the crunchy mixture and cook for another five minutes.
Add a bit of cinnamon for extra flavour, and serve with 0% Greek yoghurt for a brilliant breakfast. Recipe serves 4, calories per serving: 161.
Need to stock up on Healthy Mummy Smoothies? Then see our shop here
And join our 28 Day Weight Loss Challenges here