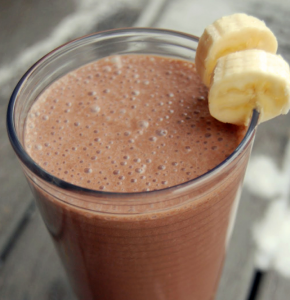 Here at Lose Baby Weight you might already know how much we love love love the Healthy Mummy Smoothies.
Not only do they taste AMAZING but they are so good for you when you are trying to lose weight.
The Healthy Mummy Smoothies:
are breastfeeding safe
contain no weight loss accelerants
contain no caffeine
are gluten free
are dairy free
are nut free
they're egg free
they use non genetically modified ingredients AND
are packed full of essential vitamins and minerals designed to give the busy mum the best nutrition possible.
Today we've got a few tips to make your smoothie-making easier.
This way, as soon as you get up in the morning or later on when you are thinking 'what's for lunch?' you know you've got a meal sorted.

Wash your blender immediately after use
This one is so important. There's nothing like a dirty blender sitting on the bench to turn you off making a smoothie for breakfast. SO as soon as you make your smoothie and pour it into a glass, give the blender a rinse out. Squeeze a little washing up liquid in there, add some water and whiz it on the blender for 5-10 seconds.  This gives you a good head start on the cleaning process. Now rinse again in the sink and give it a good scrub before letting it air dry.
Keep your blender within easy reach
If at all possible, try to keep your blender out on the bench so it's accessible and inspirational. This may not be the case if you are short on space, so if not, make sure it's in an easy to reach spot in the cupboard so you don't have to wrangle Tupperware and saucepans to get it out each time.
Don't think for a second that you need to get stuck in a smoothie rut. Try throwing in some new added extras to add flavour and nutrition to any of the recipes. Try cinnamon, some oats, vanilla, fresh dates or even a handful of nuts.
Our favourite tip is to pre-mix your favourite mix ins into a container with a scoop so that you don't waste time opening all those packets every time you make a smoothie. One of our favourite combos is rolled oats, LSA, and chia seeds.
Start looking around for new ingredients
There's no need to just stick with bananas! Check out the health food aisles, Asian grocers, little delis or the fresh produce aisle and see if you can find something new. Grab a bunch of mint, a tin of lychees or a handful of baby spinach and get creative.
Serve your smoothie in new ways
Sure, a tall glass is a great way to enjoy your smoothie, but what about in a wine glass, in a travel mug for the car, a cute jar with a straw, or even a bowl (make it extra thick and it's like a dessert!).
Think outside the blender
Who says you can't add avocado and beetroot to a smoothie? Or porridge? Or Weet Bix? Or fresh ginger? Or VEGEMITE?!
If you like the taste of certain ingredients, chances are they could taste pretty good as a smoothie too. Or why not create your own combo based on a favourite recipe, such as our Apple Pie smoothie or Chocolate Pudding smoothie which is simply divine.
Keep a smoothie stash in the freezer
There's nothing worse than getting to the freezer/fridge/cupboard and finding them devoid of smoothie ingredients. For this reason we recommend you always keep some frozen berries in your freezer so that you always have enough fruit for a smoothie. Think of it as your smoothie insurance policy.
Watch the website for new ideas and recipes
Several times a week we upload new smoothie recipes, either from our own stash or from the ones we get sent from mums. Keep checking in to our smoothie pages for inspiration.
Share your recipes on our Facebook page
Inspire other mums with your own recipes and photos of your smoothies uploaded to our Facebook page. Many mums get some nice feedback when they post up a recipe, or some handy hints and tips if you need them.
Tell us about your signature smoothie – and win!
Send us your own smoothie recipe, along with a photo of it, to [email protected] and you have the chance to win our Smoothie of the Week competition. The prize is a $100 Myer voucher, which you could use to buy something special just for you.

GET YOUR 10% DISCOUNT
If you are ready to lose weight then the Lose Baby Weight plans offer a healthy and safe exercise and diet routine and you can get a 10% discount by using code LOYALTY at the checkout
PLUS our BEST SELLING 28 Day Diet & Exercise Plan has now launched as an 84pg Printed Book and you can get your copy here 
Click HERE to see our shop