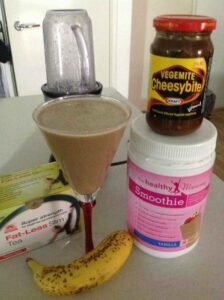 Before starting on the Healthy Mummy Smoothies, Carmen used to skip breakfast. Not any more!
Carmen has come up with an original smoothie idea – using Vegemite. 'I hate Vegemite on my toast or in a sandwich but thought of putting it in my smoothie. It was yummy!'
Ingredients:
2 scoops of Healthy Mummy Vanilla Smoothie Mix
250ml of skim milk
2 tablespoons of oats
1 tablespoon of Vegemite or Cheesymite
½ a frozen banana
250ml herbal tea (optional instead of milk)

Method:
Blend at high speed until well combined.
Enjoy! 
Need to stock up on Healthy Mummy Smoothies? Then see our shop here
And join our 28 Day Weight Loss Challenges here