We love our smoothies and we love finding new recipes to make so below you will find Lose Baby Weight customers own smoothie recipes.
If you have one you would like to submit please email it into us at info@losebabyweight.com.au
Choc Banana Pick Me Up (thanks to Belinda Sant)
2 tablespoons of choc healthy mummy smoothie powder
1 tablespoon of oat bran
5 ice cubes
1 tablespoon of cinnamon
2 tablespoons of mixed berries
1/2 a banana
200mLs milk (i used soy)
Whiz in blender until it is smooth
Enjoy!! Perfect for a tired mum who needs a good kick start to the day. Delish!!!
---
Nutty Banana Mocha  (thanks to Andrea Woods)
-2 tbs healthy mummy chocolate smoothie mix
– 5 raw almonds
-5 raw cashews
– 1/2 banana
– 200ml rice, almond or skim milk
– 2 tbs of espresso coffee (could use instant if you didnt have a coffee machine)
– 5 ice cubes
Blend & enjoy!
---
Summer berry slushy (thanks to Carly Curypko)
1 cup apple juice
1 cup frozen mixed berries (blue berries, raspberries, blackberries & strawberries – I buy the 1kg Nannas bag, very inexpensive)
1/2 cup frozen watermelon
2 tablespoons of Healthy Mummy powder in either strawberry or vanilla.
2 Passionfruit
Blend (I used my bamix stick blender) until combined & thick, then stir through the Passionfruit pulp. A delicious, healthy take on a summer slushy!
Mine is usually thick enough to eat with a spoon so it feels more like a meal taking longer to "eat".
---
Strawberry Banana Smoothie (thanks to Katie Lazenby)
INGREDIENTS
1/2 banana
1/4 cup frozen strawberries
4 ice cubes
100g frozen strawberry yogurt (I just froze a small toddler tub of yogurt)
200ml milk (I used low fat cow's milk)
1 tablespoon vanilla Healthy Mummy mix
1 tablespoon strawberry Healthy Mummy mix
Add all ingredients to blender and blend till smooth.

---
Berry Coconut Smoothie (thanks to Marissa Alexander)
1 x tablespoon Healthy Mummy Strawberry
1 x tablespoon Healthy Mummy Vanilla
220mls Soy milky Lite
1/2 cup mixed berries
3 x tablespoons desiccated coconut
Blend in a blender and enjoy!
---
Pumpkin Pie Smoothie (thanks to Andrea Morelli)
1 cup almond milk
2 Tbsp. Healthy Mummy Vanilla Smoothie powder
1 Tbsp. almond butter
1/3 cup pumpkin puree
pinch of pumpkin pie spice
dash of vanilla extract
1/2 frozen banana
Blend until smooth. Top with a sprinkle of cinnamon, thanks Andrea Morelli
---
Honey Desire (thank you to Tiffany Townsend)
1/4 honeydew melon cut into chunks
1/2 banana (frozen)
1/2 cup green tea (made with 2 tea bags and cooled)
2 tbspn of The Healthy Mummy Smoothie Mix (I used berry)
200ml skim milk
1 teaspoon Honey
Whiz in blender until smooth
This smoothie recipe is so yummy, light and very refreshing! These flavours came together one morning while I was feeding my miss 9 month old banana and honeydew melon for morning tea
---
Cherry Bomb (thanks to Angela Fogarty)
I called it Cherry BOMB!! lol Its packed with goodness 🙂
200ml of lite milk
3/4 cup of fresh pitted cherries
1 tablespoon of frozen cranberries
2 spoons of chocolate healthy mummy mix
1/4 of a banana
1 table spoon of chia seeds
1 table spoon of LSA
Whizz in a blender
---
Berry mix (thank to Kellie Daelman)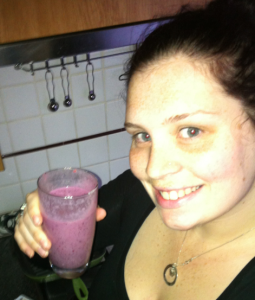 Here is the yummy recipe I make every morning:
2 x Berry Healthy Mummy smoothie powder
1/2 x Banana
3 x cubes of ice
Handful of frozen blueberries
3 x fresh strawberries
200mls of Almond Milk
Whiz with the bar mix and whalah!
I took the photo first thing without hair done and make up free as I have a new baby and a 2 year old and don't have time just yet to beautify myself. But I'll always have time for my smoothie =D
Thanks
Kellie =D
---
LATE SHIFT MUMMY ENERGY SHAKE (thanks to Jennifer Graces):
1 Frozen Banana
1 Healthy Mummy Vanilla Scoop
1 Healthy Mummy Strawberry Scoop
1 Tsp Instant Decaf Coffee Scoop
1 Tsp Oates
1/4 Cup Frozen Blueberries
1/4 Cup Frozen Rasberries
150mL Almond Milk
150mL Water
BLEND – WALAH! Enough energy and Fullness to pass for dinner & keep me waitressing a busy restauraunt for 8hrs 🙂
---

Strawberries & Cream (thanks to Donna Shepherd)
6 Icecubes
1 Tbs Strawberry Healthy Mummy Smoothie Mix
1 Tbs Vanilla Healthy Mummy Smoothie Mix
1/2 Banana
4 Strawberries
250ml Almond Milk
Blend together and enjoy, simple and tasty!




---
Berry Pash Smoothie (thanks to Michelle)
Ice cubes
2 scoops strawberry Healthy Mummy Smoothie
1 cup skim milk
1/4 cup frozen raspberries
1/4 cup strawberries
1 passion fruit
Blend it together and enjoy!!

---
La Tropicana (thanks to Melanie)
200ml skim milk
2 tablespoons Vanilla Healthy Mummy smoothie mix
1/2 banana
tablespoon passionfruit (have also used passionfruit pulp, but has to be kind not preserved in syrup)
1/4 Mango
1/2 cup pineapple (fresh is better, but can use canned).
Blend until smooth, stick mixer works well.


---
Gingerberry Delicious (thanks to Sarah Crisp)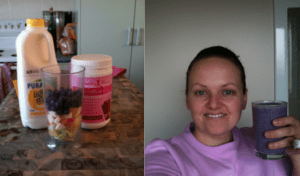 I love the smoothies and try to mix it up as much as possible to keep it interesting – this one i love not only because it tastes fantastic but because every fruit and veg in thermogenic or a superfood. Here is my recipe;
6 inch piece celery
1-2cm piece ginger
1 small apple
1 handful blueberries
low-fat milk of your choice
2 x tbsp of The Healthy Mummy smoothie mix of your choice
Chop ginger and celery finely, roughly chop apple, add all ingredients to blender and whiz till smooth.
---
Hazlenut Delight (Thanks to Emma Lane)
Today is my third day of trying your fabulous smoothie and I LOVE them! They are so thick, tasty and filling and I have even noticed a difference in my milk supply, as my breasts were always 'empty', hence there has also been a change in my eight week old girl, who is now having 7 hour sleeps at night! Yay!
Anyway here is my recipe:
200ml of skim milk of choice , I use soy
1/2 cup frozen blueberries
1/2 banana
1-2 tbs hazelnut meal
 2 x tbsp chocolate healthy mummy smoothie
---
Breakfast Banana Chia Seed Custard (thanks to Helen Brown)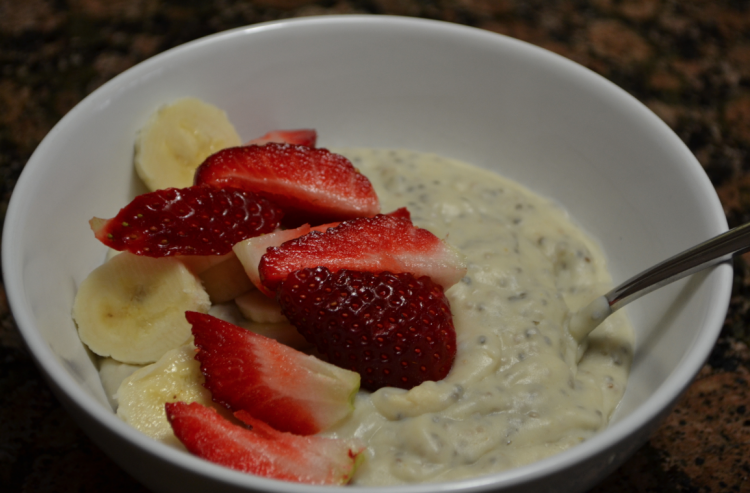 I just thought that I would share my version of a morning smoothie. I'm not sure if it completely fits the category of smoothie, but I think its yum and definitely hits the spot on a cold winter morning. If you have a little extra time in the morning and want something a little different, this is perfect. Sorry the pictures are a bit dodgy, I cant work the auto timer!
This is my 'Breakfast Banana Chia Custard'
200ml Unsweetened Almond milk (available from Coles)
2 scoops vanilla smoothie mix
1 Tsb corn flour
1 heaped Tsb chia seeds
1 egg
1/2 banana and 2 strawberries, chopped to serve
Put almond milk in microwave safe jug, and heat in microwave for 2 minutes.
In separate bowl, mix cornflour, smoothie mix and chia seeds.
Add a little of the warm milk to make a runny paste with no lumps,
Add the egg, and beat with a fork until smooth and combined.
Slowly add the egg mixture to the warm milk and mix to remove all lumps.
Microwave for a further 3 minutes.
Serve in a bowl with chopped strawberries and banana. Yum!
Loving the new smoothie mix, especially since it is gluten and dairy free. Very hard to find these days
---
Banana Chai Delight (thanks to Angela Fogarty-Mendez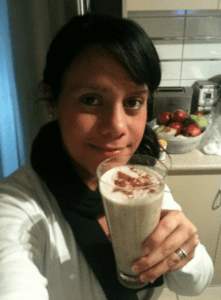 I so love your smoothies 🙂 I created this one as I'm crazy for chai lattes but being a busy mum sometimes it's hard to go and get yourself one out in a coffee shop.. So this one does the trick for me to start my day.. Or to finish it if I have it for tea and it's a sweet finish 😉
Here we go with the recipe I call it banana Chai delight 😉
3 tea spoons of chai mixture I got a fat free from the suppy but you can make your own spice mixture if u have time. I mixed this mixture with 30ml of hot water to dissolve.
200 ml of light soy milk
1 teaspoon of LSA And 1 teaspoon of chia seeds (I put it in every smoothie I make but it can be left out if desired
2 spoonful of healthy mummy mix vanilla flavor
Half a banana to make it more filling
Blend away – sprinkle some cinnamon on top and enjoy 😉
Cheers Angela Fogarty-Mendez xx

---
Green Godess (thanks to Kim Bellas)
2tbs healthy mummy vanilla mix
2 tbs oats
200 ml milk (I use protein enriched oat milk)
1 cold kiwi fruit
1 handful spinach
Blend away and enjoy


---
Pearanna Paradise (thanks to Lauren Hickey)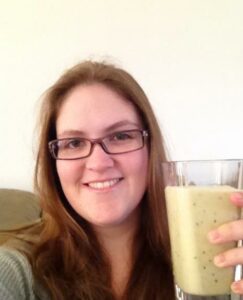 First I just want to say I love love love the lose baby weight program. Thank you sooo much!!
Here's my smoothie:
1 banana
1 pear
1 kiwi fruit
2 scoops vanilla healthy mumma powder
1-2 tbsp fat free vanilla yoghurt
200-250ml low fat soy milk (of whatever milk you use)
Blend it all together and enjoy!



---
Choc Banana Surprise (thanks to Amanda Evans)
200-250 mls of your choice of milk (I use oat milk)
dash of honey
2 x tbsp of healthy mummy choc smoothie mix
half a banana
2 to 3 shakes of cinnamon
2 tbs of no fat yoghurt
1/2 tsp ginger ( I used jar as didnt have fresh in the house)
Whiz it all up in the blender and serve.


---
Coconut & Mango Smoothie (Thanks to Kim Johnston)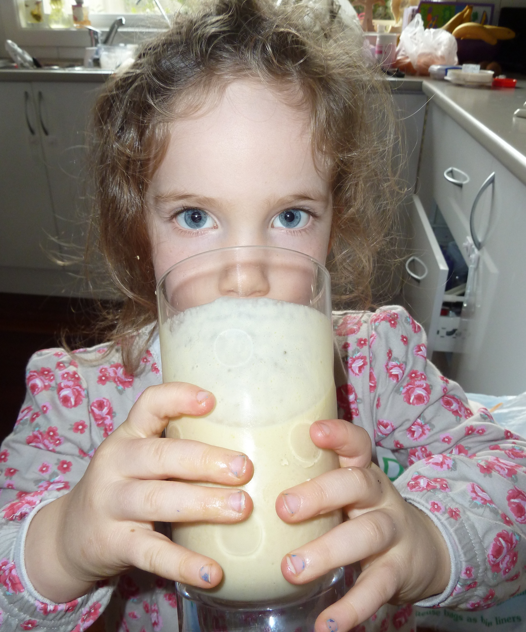 Here is my recipe for a delicious Coconut and Mango Smoothie. It's my daughter drinking it!!!
2 slices of frozen tinned mango
1/2 cup or more of light coconut milk
2 tablespoons of vanilla healthy mummy smoothie mix
250 mls of light milk
Blend and enjoy. Change quantities to suit yourself.



---
Cinnamon Doughnut Smoothie (thanks to Melanie O'Nions)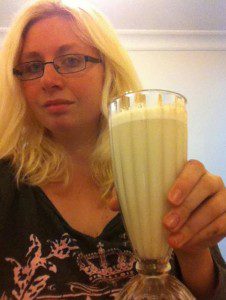 This is perfect if you have a craving for something sweet– it tastes a lot like the cinnamon doughnuts you buy down at the shops! Additionally,research has indicated a link between cinnamon and reduced levels of dementia in older age.
200mls skim milk
2 Tablespoons vanilla smoothie mix
dash cinnamon (more or less depending on your tastes)
2 tablesoons oats
Drizzle honey
Blend well until oats are no longer visible. I like to put another dash of cinnamon on the top as a garnish."

---
Green Super Smoothie (thanks to Mandy Dos Santos)
Blend and drink up!






---
Thin Mint Protein Smoothie (thanks to Maeghan Thornton)
1 cup frozen spinach (or 2 cups fresh)
1 cup almond milk
2 scoops chocolate Healthy Mummy Smoothie powder
1/4 cup rolled oats
Few sprigs of fresh mint
Toppings:
1 Tbsp walnuts
1 Tbsp 70% dark chocolate chips
Combine the almond milk, spinach, protein powder, rolled oats, and mint in a high powered blender and blend until smooth. Transfer to a glass and top with walnuts and chocolate chips and enjoy with a spoon!
---
Oriental Rice Milk Smoothie (thanks to Funda Yolal)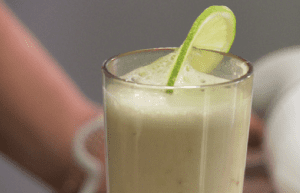 I have adopted this smoothie from 'Good Chef Bad Chef':
1 cup Rice milk
½ cup lychees (fresh or tinned)
1 tbls lime juice, fresh
½ tsp lime zest
½ tsp grated fresh ginger
2 scoops vanilla 'Healthy Mummy Smoothie' mix
Blend together. Tastes like a cocktail without the alchohol!
---
Mint choc berry mousse (Thanks to Eleanor Hannah)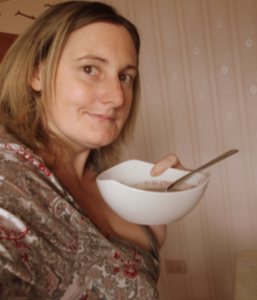 I am 6 weeks into your excercise program have lost 6.5kgs, but this Monday I started on the smoothies, love them 🙂   helps with my problem of forgetting to eat, i always feed the kids make hubby and the kids lunches but always forget about me, it gets to about 11.30am and i go man im hungry o wait i forgot to eat!!!
2.5 Heaped Tblspn's  Healthy Mummy Berry smoothie mix
Few sprigs of fresh mint
Handful of Frozen Berries
handful of fresh Strawberries
200ml Lite milk
Whizz till smooth, then place in Fridge for 5-10mins 🙂
and wahlah Mint choc berry mousse 🙂
---
Chocolate brownie smoothie (thanks to Melanie O'Nions)
2 Tsp Chocolate Healthy Mummy Smoothie Mix
Dash cocoa powder for flavour
3 TSP nuts of choice (Almonds, cashews, macademias all work well)
Drizzle honey
200 ML milk
Blend for approx 30 seconds until nuts are well dissolved and no longer visible.
Garnish with grated chocolate–you can grate the dark chocolate peppermints from The Healthy Mummy with a knife and sprinkle on top. 🙂



---
Healthy Mummy Porridge (thanks to Rosie)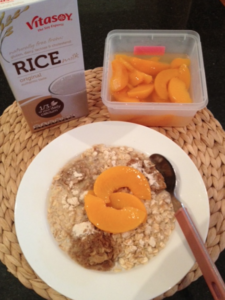 I love the Healthy Mummy smoothies and have them five mornings a week as I'm super busy getting the kids ready for school. On weekends I have a bit more time and sometimes it's nice to sit down with a hot brekky!
2 Vita Brits
1/2 cup rolled oats
1 heaped tablespoon Healthy Mummy mix (vanilla) sprinkled on top
Rice Milk or lite white
Zap in the microwave for two mins. Top with tinned peaches and a little of the juice. SO yum, no sugar needed, the smoothie mix adds flavour and all the essential nutrients. The oats will fill you up for hours.
Beautiful winter warming, healthy breakfast.

---
Green Machine Choc Mint Smoothie (thanks to Virginia Johnstone)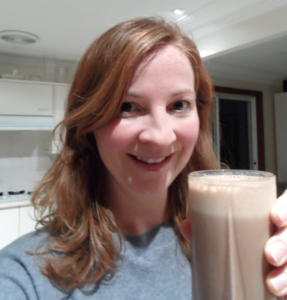 Here's my recipe…it's a fantastic smoothie as it packs a hidden nutritional punch with the green tea and zucchini! A bit of prep involved with the zucchini but it can be kept cooked in the fridge:
200ml skim milk
1 'green tea with mint' tea bag, steeped in 1/2 cup booing water and cooled (NB: or make it into ice cubes!)
1 small zucchini, peeled, cooked (microwave on high with a splash of water for 2 mins) and cooled in the fridge (can be made ahead and kept in fridge).
2 tablespoons of chocolate smoothie powder
1 heaped teaspoon sugar free cocoa
4-5 ice cubes
Blitz in blender and enjoy! Thanks Virginia Johnstone

---
Tropical Cheesecake (thanks to Angela Fogarty)
1/2 banana
200 ml of light milk
2 tablespoons of diet passionfruit yoghurt
1 big tablespoon of dry coconut
A pinch of cinnamon
A dash of vanilla extract
2 tablespoon of healthy mummy smoothie mix vanilla
Blend away and it tastes as good as the cheesecake from a famous shop.. Without the naughtiness   😉
Enjoy x

---
Berryyanna Bliss (thanks to Tamara Mares)
This is my FAVE recipe that i use every day.
1 banana
Handful of frozen mixed berries
2 tablespoons of rolled oats
2 table spoons of the healthy mummy mix in vanilla
6 or more ice cubes
250 ml of low fat or skim milk
whizz up and enjoy 🙂



---
Chocolate Peanut Butter Smoothie (Thanks to Jennifer Graces)
150mL water
150mL rice milk (or milk of choice)
1/2 Frozen Banana
2 Scoops Choc Healthy Mummy Smoothie
1Tb ABC PEANUT SPREAD (no sugar)
I use frozen banana and makes it soooo good!
The ABC spread is found at woolworths health food section and is very good for you!
Thought I should take a pic before I demolished it HAHA

---
You'll be CHERRY RIPE (thanks to Kristy O'Connor)
1 cup of cherries
250ml Soy-choc Flavoured Soy Milk or millk of your choice.
1tsp of coconut
2 tbls of Choc smoothie mix
6 cubes of ice.
It is delicious and fixes and chocolate craving really quick!
Thanks
Kirsty.


---
Coconut delight (thanks to Belinda Richardson)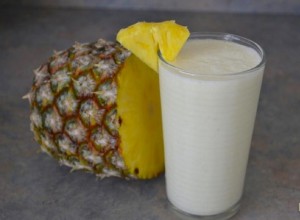 I am not very creative when it comes to anything in the kitchen. I usually don't try very many different things at all, but since I have started on the smoothies I have had a lot of fun putting different things together. So I came up with this creation.
100ml skinny milk
100ml light coconut milk (I used the tinned kind, because I couldn't find any fresh)
1/2 cup of pineapple
small hand full of ice cubes
2 tablespoons of Vanilla Healthy Mummy Smoothie mix
Blend it all up and you have a cup of tropical flavour Smile yum yum
Hope you like it!
---
Grapes Galore Tropical Fruit Smoothie (thanks to Kellie DiLullo)
15 Red seedless grapes
1 Gold Kiwi with skin on, wash before use
1/2 Banana
1/4 cup pineapple pieces
2 x tbsp Vanilla Healthy Mummy Mix
Wizz it up, add some ice and enjoy…… so refreshing! Hope you like it!

---
Soon to be summer smoothie (thanks to Ashley Loxey)
2 Tblsp strawberry healthy mummy mix (you could use vanilla)
1/2 cup of frozen mixed berries
1/2 small passion fruit or about 1 to 2 tsp of passion fruit pulp
1 Tblsp of bulla mango frozen yogurt ( i use the small individual ones you can buy and use about half of it for each smoothie)
200mls of the milk of your choice i use skim milk
* note i also add water to this mix as it is a little thick to start off with and the amount of water you put in is up to you and your tastes.



---
Piña Colada Smoothie (thanks to Heather Dreckow)
200 mls skim milk (or milk of choice)
1 small banana
2 tbsp dedicated coconut
1 slice fresh (or tinned) pineapple
2 tbsp Healthy Mummy Vanilla Smoothie powder
4-5 ice cubes
Whizz it all up & enjoy! I had to fight the hubby and the kids to even get to drink all of mine!


---
Protein power smoothie (thanks to Rebecca Schmid)
250-300mls skim/full milk (I prefer A2 but what ever you like)
1 banana
1TBS passion fruit yoghurt (I prefer activia but what ever you like)
1TBS LSA
1 Tsp peanut butter (I prefer almond spread or the almond, brazil & cashew nut spread but to keep husband happy sometimes it's low salt peanut butter)
2 TBS vanilla healthy mummy smoothie mix
Blend it on max for a good 60 sec till its thick & creamy! Yum!
---
Chocolate Raspberry Blast (thanks to Fiona Bristowe)
2 Tbsp Chocolate healthy mummy smoothie mix
1 Tbsp Natural Greek Yoghurt
1/2 Frozen banana
Handful of frozen raspberries
Handful of fresh baby spinach leaves
Small handful of fresh mint leaves
100 ml Carrot juice(found in 1litre tetra box at Coles)
100 ml Almond milk
Blend until smooth

---
Berry Mint intense (thanks to Carol Tudman)
200 – 250 ml low fat mill
2 tsb of vanilla healthy smoothie mix
1 tsb oat flakes
1 tsb fine desicatted coconut
1 square of the mint intense dark chocolate
Handful of Blueberries  ( or Strawberries or mix berries )
Blend together for 1 min and enjoy : )
p.s : U can use 1/2 banana intead of oat flakes
Just love it the mint flavour, make the smoothie, so light and very fresh  – hope you like it


---
To have your recipe and pic featured on this page and be within the chance to win the weekly smoothie of the week $100 voucher send in your pics and recipe to info@losebabyweight.com.au