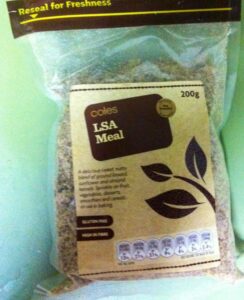 You've probably seen these three little letters popping up here and there as part of a whole range of different recipes, ranging from desserts, to baked goods to breakfasts, especially if you've been trying to lose weight and have checked out our recipe section!
But what exactly is LSA and, more importantly, what on earth do you do with it?
We thought it would be a good idea to fill you in on what this mix of super nutritious goodies is all about and how you can use it as part of your weight loss and healthy eating plans.
LSA is an acronym for linseed, sunflower kernel and almond mix. Simply put, LSA mixture is a finely ground mix of these three ingredients.
Dense and almost mini breadcrumb like in texture, LSA mixture is brown in colour and can usually be found in the health food aisle of your supermarket, alongside other super foods like quinoa and chia.
Gluten free and nutrient dense, LSA mix can be added to almost any meal to give it an extra hit of protein, fibre and omega-3 fatty acids. LSA is also packed full of essential nutrients like magnesium, vitamins E, D, B1, B2, B5, calcium, potassium and zinc! It's a pretty impressive list!
By adding LSA to your meals, you get the benefits of linseed, sunflower and almond, without having to prepare and eat each separately  There's no soaking, crushing or grinding necessary with LSA, you can scoop it straight from the packet and onto your plate.
If you're trying to lose weight, a tablespoon of LSA is a great addition to your diet due to it's ability to fill you up, keep blood sugar levels stable and help curb sugar cravings.
So how can you incorporate it into your diet? Here's our top tips for adding a little LSA to your life.
Add a tablespoon of LSA to the following..
 Your daily Healthy Mummy smoothie.
Low fat yoghurt (we recommend Jalna)
Your favourite cereal
Your favourite muffin recipe
You can also use LSA as a gluten free substitute for things like flour in cake, muffin or biscuit recipes. Your options really are limitless!
If you are ready to lose weight then the Lose Baby Weight plans offer a healthy and safe exercise and diet routine.
And don't forget to check out our current promotions and discounts page to see what specials we have on this week on our Healthy Mummy product range