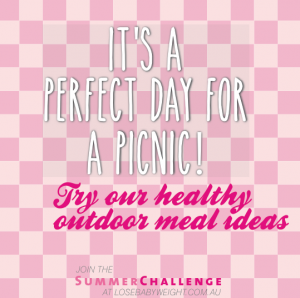 Sometimes it's just so nice to enjoy lunch in the great outdoors.
Whether that's on your deck, at your local park, on the beach, by the river or even in your own backyard – if the weather is perfect for a picnic, get out there.
Where it can get tricky is in transporting food from home to outside.
Some things just weren't made to travel (sorry, better leave the raspberry sorbet at home), while others are practically begging to be placed in a wicker basket with a checked napkin.
So today we've put together a stack of great picnic meal ideas that you can pull together quickly and easily for the family this weekend. And of course, everything is weight loss friendly.
Let's just hope the sun is out!
Snacks and Nibbles
You really can't beat a couple of home made dips and some healthy dippers (think carrot sticks, celery sticks and even some roasted sweet potato chips).
Our favourites at the moment are the Chunky Guacamole and the Minty Beetroot Hummus.
You also can't go wrong with some healthy nuts to nibble on. We love these home made Tamari Almonds, but you could really use any nuts that you have on hand.
Main Meal
If you're all about hand held simplicity, we would suggest going for something like the Chicken Rice Paper Rolls or our Foolproof Spinach and Feta Frittata.
If you are happy to bring along some plates and cutlery, another great option is a chilled salad such as this Thai Beef Salad with Mango.
You can always go for the traditional picnic fare – a classic roast chicken. Our simple 4 Ingredient Lemon Roast Chicken just needs some rolls or wraps and a simple coleslaw to finish it off.
To Drink
Getting outside is no excuse to reach for the sugary soft drink. Why not go for something fizzy and healthy such as sparkling mineral water mixed with cranberry or apple juice.
Something Sweet
By now the kids are probably ready to get up and run about, so why not make dessert easy on them by offering a hand held treat such as some Chocolate and Coconut Slice, a Wholemeal Date and Orange Scone or an Oat, Apple and Sultana Bar?
For the adults, why not serve a chilled version of our Low Fat Apple Pie with some Greek yoghurt on top.
Then it's just time to lay back and enjoy the sunshine…

GET YOUR 10% DISCOUNT
If you are ready to lose weight then the Lose Baby Weight plans offer a healthy and safe exercise and diet routine and you can get a 10% discount by using code LOYALTY at the checkout
PLUS our BEST SELLING 28 Day Diet & Exercise Plan is available as a 200pg Printed Book and you can get your copy here 
Plus our NEW CALORIE BIBLE is now available – get your copy today! Only $19.95 and a must have in your handbag!
Click HERE to see our shop