A Big thank you to Emily Clarke for sending in her tasty healthy eating and weight loss recipe for a tasty and oaty snack.
"My kids and hubby go crazy for these bars and I think they are pretty healthy. Its a really simple recipe and can be easily adapted to suit your tastes.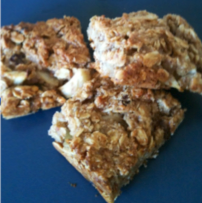 I know as a mum I am always looking for healthy snack ideas for the kids, I try to avoid the muesli bars and other packaged snacks. These bars can be packed in lunch boxes and if your craving something sweet they also make for a nice treat with your arvo coffee.
I add some extra apple to make them a bit sweeter sometimes and I have often reduced the sugar quantity and they still taste great.
OAT APPLE AND SULTANA BARS
1 ½ cup oats
½ cup almond meal
½ cup wholemeal flour
½ cup brown sugar
¼ tsp baking powder
¼ tsp ground cinnamon
½ cup sultanas
¼ cup plain natural yoghurt
¼ cup honey
1 tsb golden syrup
1 large apple peeled and chopped
Add first 7 ingredients to large mixing bowl
Mix together honey, apple, syrup and yoghurt
Add to dry ingredients, mix until well combined
Spread onto slice tray (approx 20x30cm)
Bake at 180 for approx 30 mins or until browned"
Need to stock up on Healthy Mummy Smoothies? Then see our shop here
And join our 28 Day Weight Loss Challenges here