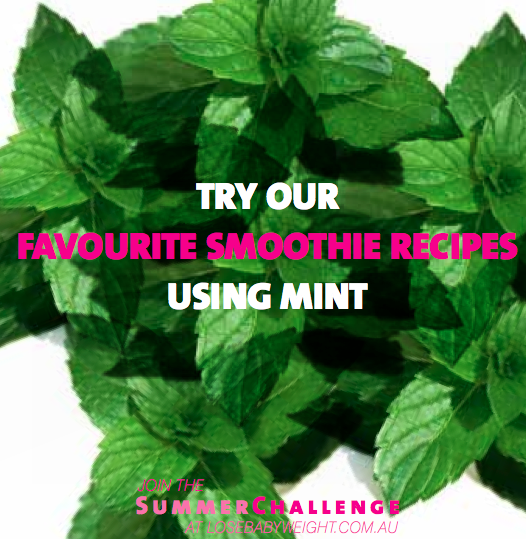 While you might enjoy mint in your day already in the form of toothpaste or chewing gum, have you thought about adding it to your day in other ways?
Mint is a sweet tasting herb that contains great amounts of folate, fibre, iron, magnesium, calcium, zinc, Vitamin A and Vitamin C.
Mint is said to help ease any digestive discomfort such as gas and bloating, as well as indigestion.
It's also great when you have a craving for something sweet.
Today we have some of our favourite smoothie recipes that contain mint.
You will see that chocolate features heavily here, as choc-mint is such a winning combo!
But you'll also see some other great flavour matches, such as berries, melon, pineapple and even banana.
The classic combination.

Made with mint tea, baby spinach and blueberries
Made with mint tea, oats and yoghurt
Made with healthy pineapple, it makes a great partner to fresh mint.
Made with watermelon, strawberries, and kiwi fruit
Also great warm, uses chocolate soy milk as an indulgent treat
Made with spinach, almond milk, oats, walnuts – PLUS some dark choc chips!
Made with spinach, lemon, ginger, mint and watermelon
Have you got a Healthy Mummy Smoothie recipe of your own that you'd like to share? You could win the weekly prize of a $100 Myer voucher. Send your recipe and a picture of the smoothie to [email protected]
Need more mint in your life? Try our top 5 food recipes using mint.

GET YOUR 10% DISCOUNT
If you are ready to lose weight then the Lose Baby Weight plans offer a healthy and safe exercise and diet routine and you can get a 10% discount by using code LOYALTY at the checkout
PLUS our BEST SELLING 28 Day Diet & Exercise Plan is available as a 200pg Printed Book and you can get your copy here 
Plus our NEW CALORIE BIBLE is now available – get your copy today! Only $19.95 and a must have in your handbag!
Click HERE to see our shop