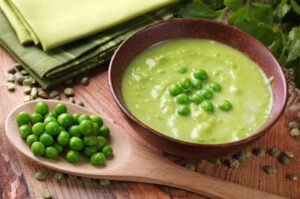 A great way to save money and eat well at the same time is to include soup as one of your weekly meals.
Soups are filling, nutritious and can make the most of fresh seasonal vegetables (or those that are on sale!).
As the weather cools down, we often bring out a few old favourites like this one for our weekly meal planner.
Kids love this soup too as the vegetables give a nice sweet flavour.
Ingredients:
1 tbsp olive oil
1 onion, finely chopped
2 garlic cloves, finely chopped
3 cups chicken stock
1kg frozen peas
1 bunch of fresh asparagus, ends chopped off
Small bunch of mint leaves
Salt and pepper, to taste
4 tsp light sour cream and a handful of cooked peas to serve
Method:
In a large saucepan, heat the oil over medium-high heat.
Add onion and garlic and cook, stirring, for 5 minutes until onion is soft.
Add the stock and bring to the boil.
Add the peas, asparagus and mint.
Cover and return to the boil, then cook for 3 minutes or until the veggies are cooked.
Remove from the heat and use a stick blender (or regular blender) to blend the soup until smooth.
Return soup to saucepan over medium-low heat for a further 5 minutes to heat through.
Season to taste with salt and pepper.
Place soup into 4 bowls. Top with the sour cream and some cooked peas to serve.
Serves: 4. Calories per serve: 295.

GET YOUR 10% DISCOUNT
If you are ready to lose weight then the Lose Baby Weight plans offer a healthy and safe exercise and diet routine and you can get a 10% discount by using code LOYALTY at the checkout
PLUS our BEST SELLING 28 Day Diet & Exercise Plan has now launched as an 84pg Printed Book and you can get your copy here – with free express postage if you order the book on its own
Click HERE to see our shop