Dip may not be on your shopping list when you are trying to lose weight. And with good reason – when you are focused on eating healthy food, store bought dips are best avoided as they tend to lean towards the more calorific end of the spectrum.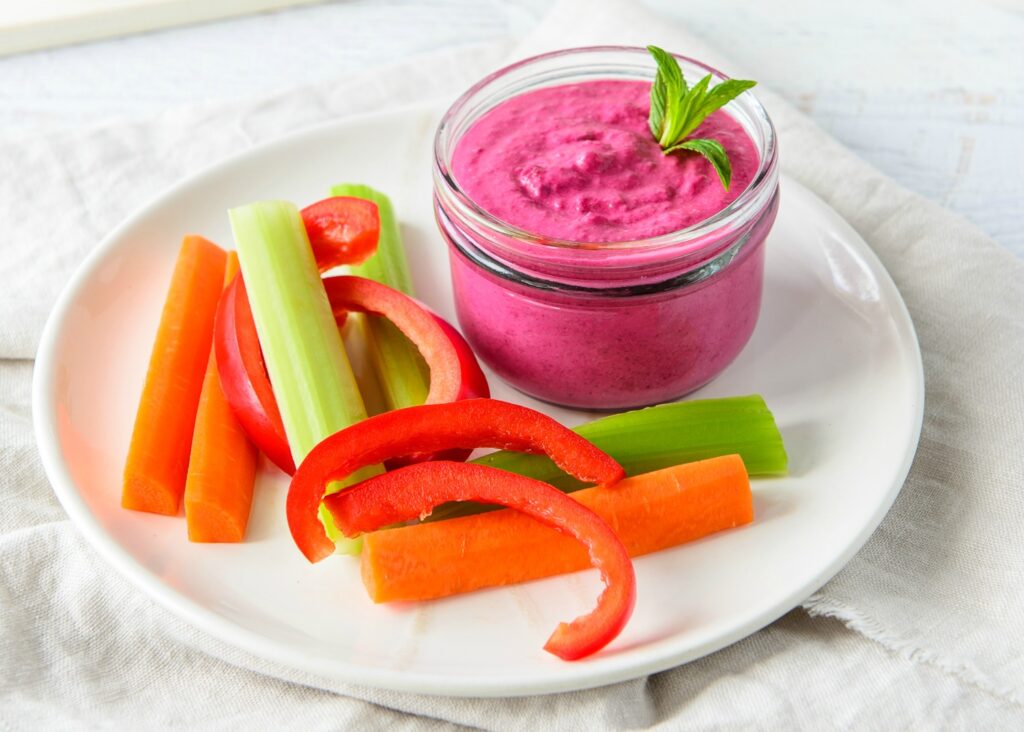 Check the ingredients list next time you're in the supermarket and you will see ingredients such as cream cheese, vegetable oil, sugar, mayonnaise, colours, thickeners, and a few funny sounding numbers. There's even one well-known brand of guacamole that contains just 8% avocado! But before you go running for the hills, fear not. If you're a fan of dip there's no need to miss out – why not make your own healthy version?
These three healthy dips are great for a packed lunch (for kids or adults alike) with some carrot or celery sticks. It's also a great way to add a flavour kick to a sandwich or salad – just use the dip as you would mayonnaise or dressing. The added bonus of using dip instead of other, more calorific options? The majority are loaded with fresh, nutrient packed veggies. If you struggle to get your five a day in, a good dollop of a veggie based dip can be a great way to up your count, without even realising it!
Beetroot Dip
Ingredients:
1 x 400g tin of beetroot, drained
2 tsp horseradish cream (or you could use hot English mustard)
1 tbsp lemon juice (use lemon squeeze if you don't have fresh)
1 cup natural yoghurt
Salt & pepper
Directions:
Place all ingredients into a blender or food processor and blend until smooth. Serve with a few mint leaves on top.
Serves: 6. Calories per serve: 81
Hommus Style Dip
Ingredients:
1 can of chickpeas, drained
2 tsp minced garlic
½ cup natural yoghurt
2 tbsp lemon juice
Salt & pepper
Directions:
Place all ingredients into a blender or food processor and blend until smooth. Serve with a sprinkling of paprika on top.
Serves: 6. Calories per serve: 64
Simple Tzatziki
Ingredients:
1 large telegraph cucumber, peeled and diced
1 cup natural yoghurt
2 tsp minced garlic
Handful of fresh mint leaves, chopped
Salt & pepper
Directions:
Place all ingredients in a bowl and bring together with a spoon. Serve with some extra mint on the top.
Serves: 6. Calories per serve: 70
To serve the dips, you could try:
Carrot, capsicum or celery sticks
Florets of lightly steamed broccoli or cauliflower
Cherry tomatoes
Snow peas
Toasted pita bread triangles
As a spread on a sandwich
Alongside some lamb cutlets, grilled chicken breast or fish fillets