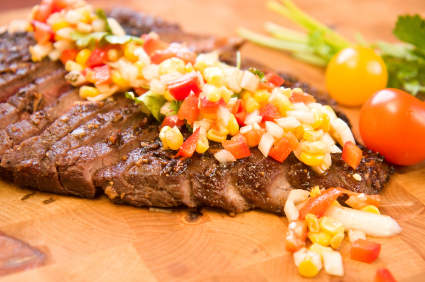 All too often we forget one of the most basic rules of the kitchen – keep it simple.
When you keep it simple and just use good quality ingredients, the flavours really have a chance to shine through.
This recipe is a great example of the philosophy.
A good quality piece of steak, cooked to perfection and adorned with some seasonal vegetables and fresh herbs is always going to be tasty.
Try this one tonight – it also happens to be a big 'man favourite' in our house.
Ingredients: for the steak
2 large sirloin steaks, trimmed of excess fat
Salt and pepper to taste
1 tbsp olive oil
Ingredients: for the salsa
1 bunch of coriander
1 bunch of mint
1 cooked corn on the cob, with corn trimmed off (or use ½ a can of tinned corn)
1 clove of garlic
4 spring onions
1 red chilli, de-seeded
2 tomatoes, roughly chopped
Juice of 2 limes
1 tbsp olive oil
Salt and pepper to taste
Method:
Take the steak out of the fridge and allow it to come to room temperature while you make the salsa.
Finely chop the garlic, herbs (leaves and stems), spring onions, chilli and tomatoes and place in a large bowl.
Add the corn and then squeeze over the lime juice, olive oil and season to taste.
Get a frying pan very hot so it's ready for your steak.
Rub each side of the steak with olive oil and season to taste with salt and pepper.
Pop the steak in the pan and cook until done to your liking. Set aside to rest for five minutes.
Use a very sharp knife to slice the steak up on an angle.
Arrange the steak over 4 plates and top with the salsa.
Serves: 4. Calories per serve: 250.
GET YOUR 10% DISCOUNT
If you are ready to lose weight then the Lose Baby Weight plans offer a healthy and safe exercise and diet routine and you can get a 10% discount by using code LOYALTY at the checkout
PLUS our BEST SELLING 28 Day Diet & Exercise Plan has now launched as an 84pg Printed Book and you can get your copy here – with free express postage if you order the book on its own
Click HERE to see our shop