Every month, a mum who is on the Lose Baby Weight plans will be writing about their journey, exercise, ups and downs and will be here to help motivate YOU and THEMSELVES along the way.
If you'd like to become our Motivating Mum for the month click here to find out more (we pay you for it too!).
Today we catch up with Nicole Daniels and find out how she's going. Nicole has already lost over 18 kilograms with Lose Baby Weight and is right on track to achieve her goal weight in the coming weeks. You can check out Nicole's previous posts HERE(week 1), HERE (week 2), HERE (week 2), HERE (week 3), HERE (week 4), HERE (week 5) and HERE (week 6)
Take it away Nicole.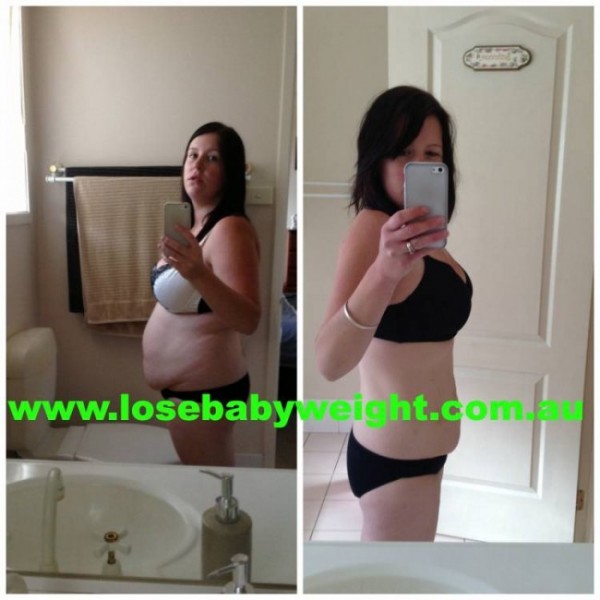 'Well I'm not sick anymore (hooray) so I got back into my exercises. I really missed working out but I think my body needed that break.
This week we did lots of walking, to the shop, to the park, around the shops and walking on the beach. The kids loved it and was really good exercise especially carrying my 11 kilogram son. You can incorporate walking into your life everyday. Take the kids to the park or every second day walk to the shops and get a couple things. Or if that is not possible drive half the way and walk the rest.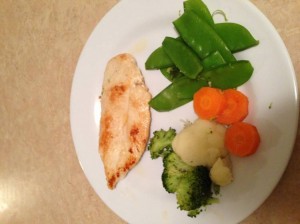 This week we made the Apple And Blueberry Loaf, it was so nice and great for arvo tea before our walk. I am still loving all the healthy meals from the 28 day plan and from the Lose Baby Weight website and so is hubby. This week for dinners we had chicken and steamed veggies, san choy bow, lamb meatballs and 2 vegetarian meals; broccoli, fennel and leek soup from the Winter Warmer Plan and pizza made from wholemeal flour and Greek yoghurt. The whole family loves this pizza and my daughter loves helping making it and puts on her own toppings.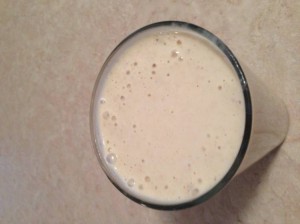 It's starting to warm up so I won't be making soup again but I am all set for next year and next week I will be trying the Cauliflower And Lentil Dahl. I still love my smoothies for breakfast and lunch, and one of my new faves is banana, date and chocolate. Next week I will start having breakfast from the 28 day plan, I can't wait. 
I thought I might also share some tips on how I've lost the weight.
Make sure you always have lots of fruit and veggies in the house and a full fruit bowl.

Most fruit you can freeze like banana and blueberries which is great if things aren't in season and perfect for your smoothies.

I keep all my nuts, dried fruits, oats, almond meal, coconut in labeled containers so they are nice and easy to grab out for smoothies and baking.

Always try new foods and add them to your meals like beef stir fry from the 28 plan. I always add different veggies like cabbage, snow peas and celery, great to use up veggies and makes the meal different every time.

Every fortnight I write up dinner for the next 2 weeks and when shopping day comes I just look at what ingredients I need and make a list.

And always have healthy snacks from the 28 day plan ready to go and great when you are out and about.

To get more exercise in your day try doing squats, lunges and jumping jacks while waiting for the kettle to boil, the bath to fill or when the kids are brushing there teeth,

When playing on the floor every 15 mins or so do some crunches or planking

Go jumping with the kids on the trampoline and skip rope and hop scotch with your daughter
My weight loss
Weight this week: 55 kgs down 1.5 kgs
Total loss: 18 kilos
My stats
Bust: 88cm down 3cm
Waist: 82 down 2cm
Hips: 88 down 2cm
I don't think I will reach my goal for the month to lose 20 kilograms as I think from being sick stalled my weight loss a little bit, but I have lost 18 kilos and am getting fit and healthy everyday. I have no doubt that I will get there.
Keep smiling and I can't wait to see what next week brings.
Nicole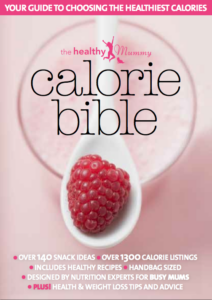 I am hoping to be better next week and get stuck back into my exercises.
Remember that eating healthy does make a difference and don't beat yourself up if you miss a day of exercise or if you only do 15 minutes a day.
Have a great week.'
– Nicole Daniels
(and you can read Nicole's review of our Calorie Bible here)

GET YOUR 10% DISCOUNT
If you are ready to lose weight then the Lose Baby Weight plans offer a healthy and safe exercise and diet routine and you can get a 10% discount by using code LOYALTY at the checkout
PLUS our BEST SELLING 28 Day Diet & Exercise Plan is available as an 84pg Printed Book and you can get your copy here 
Plus our NEW CALORIE BIBLE is now available – get your copy today! Only $19.95 and a must have in your handbag!
Click HERE to see our shop