Natalie Gallagher Mum of two has come on board as a Lose Baby Weight Motivating Mum for July and has lost an amazing 21kgs using the Lose Baby Weight Plans. Natalie shares her light bulb moment on how she got back to her pre-pregnancy/wedding weight and is looking forward to pushing herself for the 28 Day Winter Weight Loss Challenge.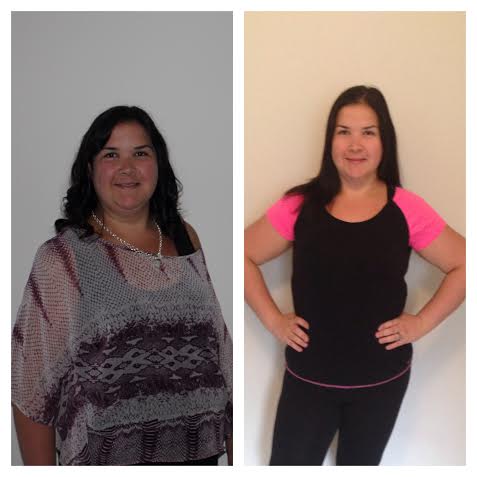 Hi Mummies,
My name is Natalie and I'm super excited to be a Motivating Mum for July. I have two gorgeous kiddies (Miss 5 and Master 2) who are my heart and soul. They are a huge part of my motivation to lose weight because I want to be fit to enjoy running around with them, and to set a good example for them about a healthy lifestyle (something I have not done very well so far).
I have been a big girl my whole life. I have tried a number of diets with little success, but without fail, I always revert back to my bad eating habits (self-confessed food-aholic!). I first tried Lose Baby Weight at the beginning of last year and lost a few kilos, but then I started back at work after my maternity leave and over the course of last year I put those few kilos back on, plus another 10!!
I had my light bulb moment in January this year when I was at my absolute heaviest (more than when I was 9 months pregnant!), and as I cried to my husband about how miserable I was, I knew I'd hit rock bottom. I decided right then that this year was all about me, and getting my weight and my health back in control. I stocked up on Healthy Mummy Smoothies, armed myself with a mountain of yummy recipes from the Lose Baby Weight website and 28 Day Diet and Exercise Plan and threw myself into an exercise regime at the gym with one of my besties. I have found that having someone to exercise with and be accountable to is a fantastic motivator for me. And the funny thing about exercise is that the more you do it, the more you want to do it, and I find I get a bit cranky if I go a few days without it!
Since January, I have lost a total of 21kg using the Lose Baby Weight Plans and brought myself back to my pre-pregnancy/wedding weight which is probably the lightest I have been in my adult life!! But even at this weight, I am overweight, and still have another 15-20kg to lose.
Being a full time working mum, I find The Healthy Mummy Smoothies to be a god send! I make a smoothie just before I load the kids into the car of a morning and drink it as I drive (the only problem I have is that my 2 year old son insists that I share it with him!). My favourite Healthy Mummy Smoothie at the moment is the Snickers Smoothie (1 cup Almond milk, 2tbs Vanilla or Chocolate Healthy Mummy Smoothie mix, half a frozen banana and 2tsp natural peanut butter). It is delicious!
The other thing I love about the Lose Baby Weight Plans is that all the recipes are for yummy filling meals!! I am a total foodie, so could not stand to eat boring tasteless "diet" food. I am loving the Comfort Eating Weightloss Plan cook book at the moment and have been rotating between the soups, zucchini slice and the cauliflower and lentil dahl for work lunches, and then enjoying hearty and warming dinners like the Mexican Lasagne. I also have a wicked sweet tooth, so the The Guilt Free Chocolate & Baking Recipe Book also gets a good work out in my kitchen! The Chocolate Chip Chickpea Protein Cookies are my favourite, and my husband and kids devour them (helps with my portion control at least!)
So what has kept me on track and made this weight loss journey successful compared to my previous failed attempts?
Convenience! As a busy mum The Healthy Mummy Smoothies allow me to have a tasty and nutritious breakfast quickly!
Yummy calorie controlled recipes from the Lose Baby Weight Plans and Lose Baby Weight website let me feel like I'm indulging, and have taught me so much about replacing a number of my pantry staples with healthier alternatives.
Exercising with a friend for motivation and accountability!
A bucket load of determination, belief in myself, and accepting that there will be bad days but to get myself back on track rather than let it spiral into a bad week/month.
July is set to be a big month for us all with the 28 Day Winter Weight Loss Challenge. I wanted to be a Motivating Mum to push myself to achieve my goal for the Challenge (which is to get into the 80's) and to hopefully motivate other mums who might be struggling or feeling overwhelmed by their weight loss goals to keep going.
Here's to a month of new yummy recipes and great results for us all. I look forward to sharing my progress with you and hearing yours too! I saw a quote on the weekend and have made it my mantra for the Winter Challenge… Summer bodies are made in Winter!
Let's do it together ladies!
Natalie Gallagher xx
GET YOUR 10% DISCOUNT
If you are ready to lose weight then the Lose Baby Weight plans offer a healthy and safe exercise and diet routine and you can get a 10% discount by using code LOYALTY at the checkout
PLUS our BEST SELLING 28 Day Diet & Exercise Plan is available as a 200pg Printed Book and you can get your copy here 
Plus our NEW CALORIE BIBLE is now available – get your copy today! Only $19.95 and a must have in your handbag!
Click HERE to see our shop