Once you have made the decision to lose pregnancy weight, it can be almost a bit exciting to get started.
You might order the Healthy Mummy Smoothies, join the 28 Day Challenge, dust off your trainers and stock the kitchen with lots of healthy eating food.
But for many women this can be where the problems begin. What if your partner isn't so keen on your new healthy eating plans?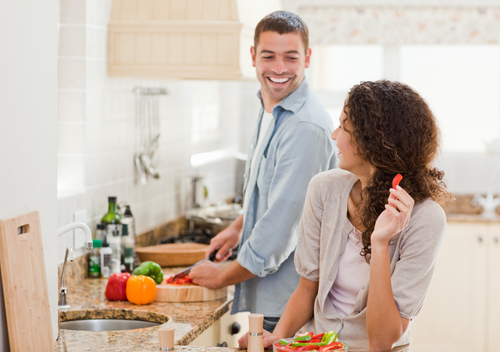 What if they are not supportive of your goals and maybe even take steps to make it harder for you to eat well and move more?
Today we have some ideas for getting your partner on board with your new healthier way of life.
Reduce and Replace
First things first, you need to get rid of the unhealthy food from the kitchen. If you are the one that does the shopping, this is easy – just gradually stop buying it and buy healthy options instead.
So over time, there will be fewer biscuits and chips, and more fresh fruit and homemade goodies (hello Raspberry Ripple Cake).
Instead of commercial dips, start making your own and popping them in the fridge.
Where you would normally keep soft drinks, fill your fridge with sparkling water and have fresh lemons and limes on hand to add flavour.
If you normally have ice cream in the freezer, instead get some good quality natural or Greek yoghurt, and have a steady supply of passionfruit, strawberries and raspberries on hand to serve with it (frozen berries work a treat – defrost in the microwave or on the stove). You get the idea!
So long as there is something nice to eat, your partner may not even notice that your old favourites aren't in the house anymore.
Get Their Input
If you've got a few nice recipes that you are keen to try out from the 28 Day Challenge, our books or our website, why not give your partner the chance to choose?
So instead of saying 'I'm going to cook us a healthy meal tonight' you could say 'What do you feel like tonight, Shepherd's Pie or a Homemade Burger?' That should pique their interest and make them feel as though they are still free to have an opinion.
Try A Twist On The Traditional
If you and your partner have favourite meals or take aways that are less than healthy, why not try your hand at a lighter version?
We have a few favourite twists on some main meals, including:
Find New Common Interests
If you would like your partner to be supportive of your desire to exercise, why not get them involved too?
Perhaps you could make a new family tradition such as a whole family walk every Saturday morning; or find a new beach to explore once a month.
Getting your partner to be a part of your new lifestyle is a great way to get them on board as they can see first hand the fun side to the changes you are making.
Explain Your Reasons
For some people, when their partner begins to change (in terms of their shape and choices of food or activities) it can shine a light on the fact that maybe they need to change too.
They may also worry that you will look so fabulous that you might end up leaving them behind.
This might make them feel a bit uncomfortable so it's important that you explain your reasons for wanting to make a change to your partner.
For instance you might say that you want to lose pregnancy weight in order to feel better about yourself, to live longer, to have more energy for your family, to stabilise your moods, and to teach a positive message about healthy eating to your kids. This could be enough to reassure your partner and hopefully get them to help, rather than hinder, your progress.

Need to stock up on Healthy Mummy Smoothies? Then see our shop here
And join our 28 Day Weight Loss Challenges here