Here is a delicious way to do something a bit different with your chicken.
Typically a piece of crispy crumbed chicken would be off the menu when you are trying to lose weight.
And the chicken pieces you can buy from a take away joint are deep-fried which is why they aren't the best choice when you are trying to lose weight.
But, if you make them yourself, at home, in the oven, with good quality ingredients – they can not only be back on the menu but they can be AMAZING.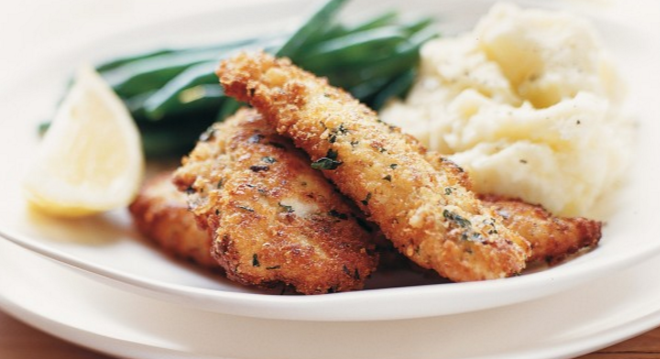 It's not often that you get the thumbs up from both the toddler, the cook and the partner, but this recipe was certainly a massive hit all round.
Feel free to tweak it to your own tastes – you could leave the coconut out and add a sprinkling of ground almonds; use parsley or rosemary instead of the thyme; try an orange instead of the lemon zest; or even add a kick of chilli to taste.
Tip: if you make the breadcrumbs yourself, blitz the bread so that the crumbs are still rustically chunky – this way there is more surface area for the crispiness to develop.
Try serving the chicken with:
Sweet potato mash and minty peas
Crisp green salad
Grilled corn on the cob and some green beans
Greek salad
Homemade sweet potato wedges

Ingredients:
4 chicken thighs, cut in half to make 8 pieces
1 egg, lightly beaten
1 cup wholemeal breadcrumbs
1/3 cup grated Parmesan
¼ cup desiccated coconut
3 thyme sprigs, leaves only
Zest of 1 medium sized lemon
2 tbsp olive oil + olive oil spray
Salt and pepper to taste
Method:
Preheat your oven to 200C and line a tray with baking paper.
In a large bowl, combine the breadcrumbs, Parmesan, coconut, thyme leaves, lemon zest, salt and pepper, and olive oil. Mix well.
Set up a small bowl with the lightly beaten egg next to the crumb mix.
Dip your chicken thigh pieces one at a time into the egg to coat it all over, allowing any excess to drip off.
Press down into the crumb mix, turning over and pressing down all over to ensure an even coating.
Place the chicken onto the lined tray.
Spray all of the chicken pieces lightly with olive oil and then bake for 30 minutes, turning half way through.
Serves: 4. Calories per serve: 305.