If you're interested to learn a way to produce a healthy meal base for your family – read on.
Today we are showing how to create a basic chicken stock.
We use stock in many of our recipes on the Lose Baby Weight website. It's a great way to add a depth of flavour to a meal.
Home made stock is very cost efficient to make (especially compared to store bought liquid stock), but also tastes incredible compared to the powder or stock cube variety found in most supermarkets.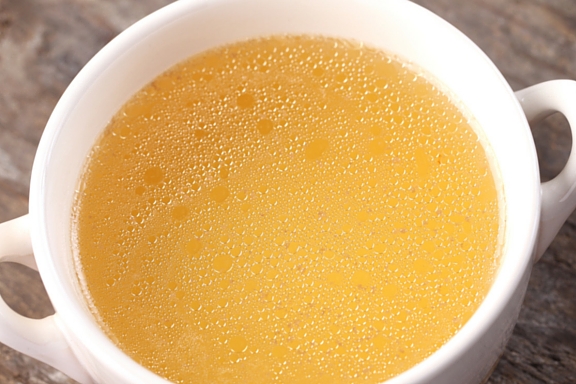 It's also better for you as you can control the amount of salt and additives in there. Some commercial brands of stock even contain MSG.
You can make this the day after cooking a roast chicken, using up the last of the meat on the bones as well as the chicken itself.
You can even toss in any lemon or orange that you might have used to stuff the chicken with.
Then you just toss in a few veggies (no need to peel any of them), some herbs and spices and you're all set.
If you don't have exactly the same veggies as outlined below, that's OK – just use anything that you have on hand.
Simply allow any stock that you aren't going to use right away cool down and then place in freezer bags or Tupperware in 1 or 2 cup measures to use in the future. You can also use ice cube trays.
Once you start making your own stock you might never want to go back to using stock cubes again!
Ingredients:
1 chicken carcass from a roast chicken
2 brown or red onions, cut in half
2 carrots, chopped in half
2 sticks celery, chopped in half
3 cloves garlic, whole and unpeeled
Salt and pepper
6 black peppercorns
2 bay leaves
A few sprigs of parsley, thyme, rosemary, oregano – whatever you have on hand
Cold water (depending on the size of your pot)
Method:
On a med/high heat, place all ingredients in a large deep pot with a lid
Fill the pot to 3cm from the top with cold water.
Bring to the boil, and then skim the surface with a slotted spoon.
Reduce the heat to low and simmer, uncovered, for 3-4 hours.
Keep topping up the water as it will cook down and evaporate
Strain the stock through a fine sieve into a bowl.
Allow it to cool and skim off the top again.
Divide into portions in plastic tubs or in ice cube trays.
Refrigerate or freeze until required.
Approx 20 calories per  20 cup.
Chicken stock is a really useful basic to keep in the fridge and can be used in so many delicious, healthy meals.  Here are some examples for you…
Love the Healthy Mummy team xxx