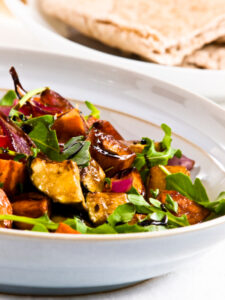 Eating for weight loss is a skill like any other. We learn what to eat and how to prepare our food over time. What starts being tricky and sometimes time consuming soon becomes almost second nature as you integrate new ingredients and cooking methods into your everyday life.
Meals that you prepare and eat at home, like breakfast and dinner, are usually the easiest when it comes to sticking to your healthy eating and weight loss plan. Having all the ingredients you need to hand, along with space and time to prepare means you're able to work out what you should (and shouldn't be eating).
Lunch on the other hand, can be a bit of a minefield. Healthy Mummy Smoothies are a great option, especially when you're run off your feet or dashing home between appointments but on those days when you fancy a change, or can't get to your blender, you can become stuck. High calorie options abound, especially if you decide to buy from a café or coffee shop, while 'instant' meals are usually full of excess sugar and salt.
A healthy and tasty salad that you prepare ahead of time is a fabulous lunch option. Filled with complex carbs, protein and plenty of essential vitamins and minerals, a good quality salad will fill you up AND keep you full, without adding excess calories to your daily intake.
This recipe combines roast sweet potato chunks with lightly poached chicken, avocado and green veggies, packing a carbohydrate/protein and healthy fat punch, all in one easy to prepare and transport meal. By separating your chicken, greens and avocado into Tupperware or ziplock bags, and transporting your dressing in another tightly sealed container, you're guaranteed a crisp lunch, as opposed to something soggy and less than appetising. Enjoy!
Ingredients
250g sweet potato, cut into chunks
250g pumpkin, cut into chunks
1 tbsp olive oil
1 cup baby spinach leaves
1 cup rocket leaves
1 cup red capsicum, thinly sliced
2 chicken breast fillets, skin removed
1 avocado, pit removed and cut into chunks
2 tbsp mayonnaise
2 tbsp mango chutney
2 tbsp orange juice
1 tbsp Dijon mustard
2 tbsp pine nuts, lightly toasted
1.5 cups salt reduced chicken stock
Directions
Preheat oven to 180C.
Place sweet potato and pumpkin chunks on a baking tray lined with baking paper and drizzle with olive oil. Cook for 30-40 minutes or until golden brown.
In a medium sized saucepan, heat chicken stock over medium heat.
Add chicken breast fillets and bring to the boil.
Reduce heat to low, cover pan and simmer fillets for 5-10 minutes or until chicken has turned from pink to white and is cooked through.
Remove from heat and set aside.
Combine spinach, rocket and capsicum in a large bowl.
Top with poached chicken. • Scatter avocado chunks and toasted pine nuts over the top.
In a small jug or dressing shaker, combine mayonnaise, chutney, orange juice and mustard and whisk/shake to combine.
Drizzle dressing over salad and serve.
Makes 4 servings – Cal per serve – 350
Need to stock up on Healthy Mummy Smoothies? Then see our shop here
And join our 28 Day Weight Loss Challenges here