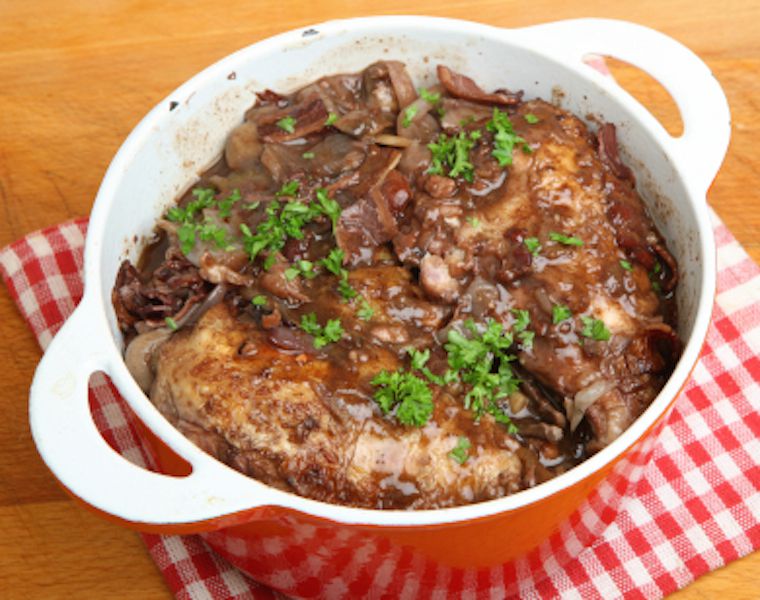 This is one of those classic dishes that is well loved the world over. And the fact that it is just 265 calories per serve means that you can still enjoy  it too even when you are trying to lose weight.
When this dish (translated as chicken in wine) is simmering away on the stove, it will fill the kitchen with the most delicious aroma that will have everyone asking 'what's for dinner?'
A true winter warmer, this dish is simple to prepare and is perfect for a mid-week family meal or as a tasty meal for a dinner party.
Instead of serving it with mashed potato, why not try some of our healthy mashed vegetable ideas for serving.

Ingredients:
75g bacon, chopped into small pieces
450g skinless, boneless chicken pieces (thighs work well)
225g shallots
225g small button mushrooms
300ml chicken stock
150ml red wine
2 bay leaves
2 tbsp tomato puree
Salt and pepper, to taste
2 tbsp plain flour
2 tbsp fresh parsley leaves
Method:
Heat a large casserole pan over med/high heat and dry fry the bacon for 5 minutes until crispy.
Add the chicken and whole shallots, and cook until the chicken has browned (around 5 minutes).
Add in the mushrooms, stock, wine, bay leaves, and tomato puree. Give it a good stir and season with salt and pepper.
Bring to the boil and then reduce the heat, cover, and simmer on low for 90 minutes.
Take the lid off and sift the flour into the pan and whisk until the sauce thickens slightly.
Sprinkle with parsley before serving.
Serves: 4. Calories per serve: 265.

GET YOUR 10% DISCOUNT
If you are ready to lose weight then the Lose Baby Weight plans offer a healthy and safe exercise and diet routine and you can get a 10% discount by using code LOYALTY at the checkout
PLUS our BEST SELLING 28 Day Diet & Exercise Plan has now launched as an 84pg Printed Book and you can get your copy here 
Click HERE to see our shop