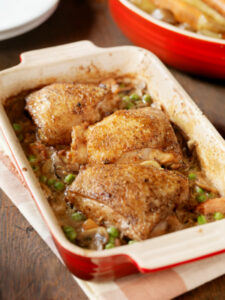 The seasonal change from summer to autumn and winter is one of the biggest culprits when it comes to changed eating habits that lead to a plateau in weight loss, or sometimes even weight gain.
The problem usually lies in the fact that 'comfort foods' are associated with high calorie, usually carb dense menu items like buttery mashed potatoes and sticky, sweet puddings.
While eaten in moderation, as on occasional treat, these foods won't cause any harm BUT if we consume them every time the weather turns grey, we'll be on track to undo all our weight loss hard work.
Our body craves warm, nourishing foods at this time of year due to a variety of factors, including our evolutionally need to seek warmth along with ingrained patterns of behaviour around the different times of year. In my house, winter was always casserole season and we'd have some variety of beef casserole every week (sometimes twice).
The trick to managing your weight in the cooler months, is having a variety of 'healthy comfort foods' up your sleeve. These dishes will serve up all that tummy feeling goodness, without the extra calories and fat. This delish cinnamon chicken with sweet potato is the perfect winter pick me up.
Packed with protein from the lean chicken breasts, complex carbs from the sweet potato and a range of essential vitamins and minerals (from the veggies), this dish also features metabolism and immunity boosting cinnamon which gives a hit of sweetness and flavour without the calories. Coriander and cumin seeds have the same effect; tons of flavour, without the extra calories.
We've used chicken breasts and sweet potato but you could use chicken thighs or even chicken marylands and whichever potato you happen to have handy.
Enjoy!
Ingredients
4 x chicken breasts
2 sweet potatoes, cut into chunks
1 onion, finely chopped
1 clove of garlic, crushed
1 cup peas (fresh or frozen)
1 x can tinned tomatoes
100ml extra virgin olive oil
200ml reduced salt chicken stock
1 tsp cumin seeds
1 tsp coriander seeds
1 stick of cinnamon
Directions
Pre-heat oven to 200C
Heat a small frypan over medium heat
Add the cumin and corainder seeds and lightly toast for a couple of minutes or until fragrant
When done, remove from the heat and crush using a mortar and pestle
Heat olive oil in a large frypan over medium/high heat
Add the chicken breasts and cook for 5 minutes before turning
When both sides of the chicken is browned, remove and set aside
Add the garlic, onion and spices to the pan
Reduce the heat and cook for 5 minutes or until onion has softened
Add the potato and peas and cook for a further 5 minutes
Select a large baking tray or dish
Spread the potato/peas/onion/garlic/spices mixture over the bottom of the tray
Place the chicken on top
Pour over the stock and tomatoes
Cover with foil and place in the oven to roast
Roast for 45 minutes or until chicken is golden and set through
Makes 4 servings – Cal per serve – 450
GET YOUR 10% DISCOUNT
If you are ready to lose weight then the Lose Baby Weight plans offer a healthy and safe exercise and diet routine and you can get a 10% discount by using code LOYALTY at the checkout
Click HERE to see our shop