Here at The Healthy Mummy HQ we are all busy mums like you. So when a recipe like this comes along, we just HAVE to share it.
If you haven't got yeast in the house, or don't have time to wait around for dough to rise – this is your new go-to recipe.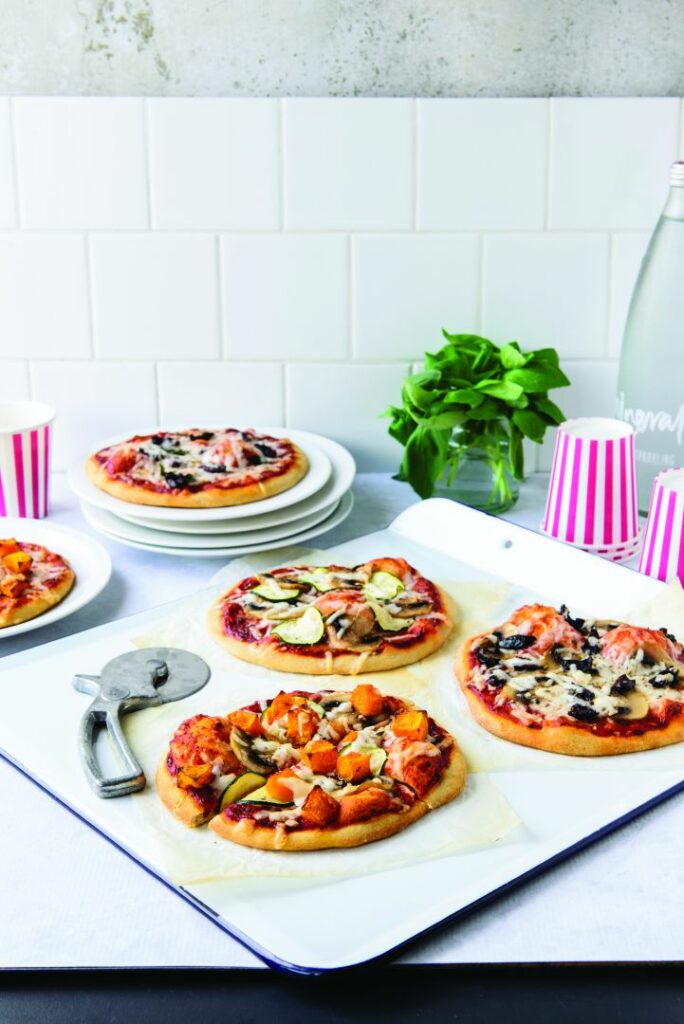 Just self raising flour and natural or Greek yoghurt is all you need. The kids will love mixing this up in a big bowl, kneading it, and then rolling it out into the traditional pizza shape.
Who knew making your own pizza dough could be so easy?
Pizza doesn't have to be an unhealthy meal.  It's all about what you put on top of it (and next to it).
If you aim for a few quality ingredients + not too much cheese + a healthy salad on the side + sparkling water to wash it down = you can't really go wrong.
In fact there are usually some healthier choices for take away at most restaurants these days.
Ingredients (makes one large pizza)
1 cup self-raising flour (plus extra for kneading)
1 cup of Greek or natural yoghurt
Method
Combine the ingredients in a large bowl and bring together with your hands.
On a floured surface, knead the dough for around 5 minutes until it feels stretchy. Add a little more flour if it seems too wet.
Use a floured rolling pin to roll the dough out.
Top with your favourite toppings and bake in the oven at 180C until golden brown.
Serves: 4. Calories per serve: 219.
4 suggested toppings:
2 tbsp tomato paste + a sliced tomato + a handful of whole olives + a sprinkling of basil + sliced mozzarella + a handful of antipasto from a jar (pictured)
2 tbsp tomato paste + finely chopped red onion + finely diced mushrooms + a sprinkling of low fat feta
2 tbsp tomato paste + handful of prawns + a handful of chopped parsley + a sprinkling of Tasty cheese
2 tbsp cream cheese + a cup of cooked BBQ chicken + ½ cup of corn + a sprinkling of Parmesan