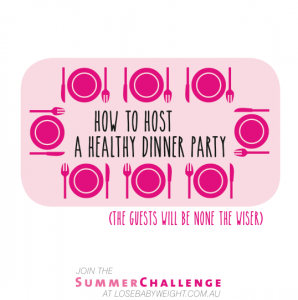 When you are trying to lose weight, hosting a meal for friends can at first seem like it may be tricky.
You may feel as though your friends expect you to serve something rich, creamy, or indulgent.
Well the truth is, most of the time, your friends are actually there to see you – not to eat their body weight in ganache.
So if you enjoy having friends over for dinner, you can definitely feel good about serving healthier options to them.
And if you try some of our recipes below, they will most likely not even notice that they aren't smothered in creamy sauces or dripping with butter.
Fresh, good quality ingredients, simply prepared, will always taste great. So keep it simple and be sure to enjoy your evening.
Today we have 4 meal plans for you to try out. Each includes an appetiser; a main meal; some tasty side dishes; and a show stopper dessert.
Meal Plan 1


Minty Beetroot Hummus + Slow Cooked Leg Of Lamb + Colourful Quinoa Tabbouleh + Raspberry Frozen Yoghurt Sorbet

Meal Plan 2


Pumpkin Dip with Pita Bread Dippers + Roasted Lemon Chicken + Fresh Corn With Chilli and Lime + Roast Tomato, Feta and Olive Salad + Chocolate & Berry Mousse 

Meal Plan 3


Tomato and Basil Bruschetta + Baked Salmon With Lime and Parsley + Rainbow Coleslaw + Ricotta Cheesecake


Meal Plan 4


Pumpkin Spinach Bites + Roast Beef With Pepper and Mushroom Gravy + Pureed Carrots + Green Beans With A Crunchy Topping + Nutty Berry Mess



GET YOUR 10% DISCOUNT
If you are ready to lose weight then the Lose Baby Weight plans offer a healthy and safe exercise and diet routine and you can get a 10% discount by using code LOYALTY at the checkout
PLUS our BEST SELLING 28 Day Diet & Exercise Plan is available as a 200pg Printed Book and you can get your copy here 
Plus our NEW CALORIE BIBLE is now available – get your copy today! Only $19.95 and a must have in your handbag!
Click HERE to see our shop