Remember the old commercial where a young Naomi Watts turned down a date with Tom Cruise because her mum was cooking a lamb roast?
I can honestly say I would have done the same thing (had it ever come up). My mum's lamb roast was (and still is) legendary.
While a roast is generally thought of as a pretty easy meal, timing can be a bit of an issue – will the veggies be ready at the same time as the meat? How do I know when the meat is just right? Why is my gravy lumpy!?
A great way to take the worry out of a roast is to use the slow cooker. This amazing device produces a roast lamb that is so tender that it can be 'carved' with a fork.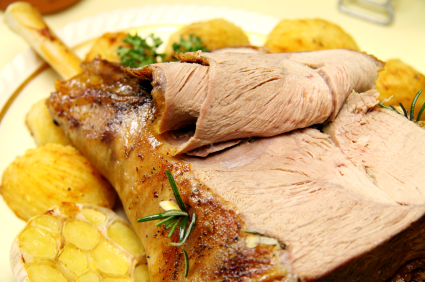 And the best part is, you only need to toss a few ingredients in the slow cooker and then go about your day, smug in the knowledge that you will come home to a perfectly cooked meal.
Actually, no, the very best part is that it looks as though you've spent hours in the kitchen when it takes just 10 minutes to prepare.
Ingredients:
1 large leg of lamb – if you don't think it will fit in your slow cooker, ask the butcher to cut the shank off and place this into the cooker separately
1 bulb of garlic (or 4 tbsp minced), peeled and separated into cloves
1 sprig of rosemary (or 2 tbsp dried)
1 cup red or white wine
1 x 400g can of diced tomatoes
Salt and pepper
1 tbsp olive oil
2 tbsp Gravox (optional)
Method:
Turn your slow cooker to low and leave the lid on to warm up.
Heat the oil in a large pan on the stove and brown your lamb all over (this should take around 6-7 minutes).
Pop your tomatoes and lamb into the slow cooker.
Take a knife and make 8 deep incisions into the meat. Insert 8 of the garlic cloves into the meat.
Pour over the wine and then toss in the rest of the garlic.
Sprinkle the rosemary all over the lamb, then season with salt and pepper.
Cook on low for 8 hours.
Remove the lamb from the slow cooker and place in a serving dish.
Now to make the gravy, simply pour the juice from the slow cooker into a saucepan over a high heat and bring to the boil.
Reduce the heat to medium and simmer for around 10 minutes until it reduces.
Add the Gravox (if using – it produces a thicker gravy) and mix until well combined.
Pour through a fine sieve and serve with the lamb.
Serves: 6. Calories per serve: 200.