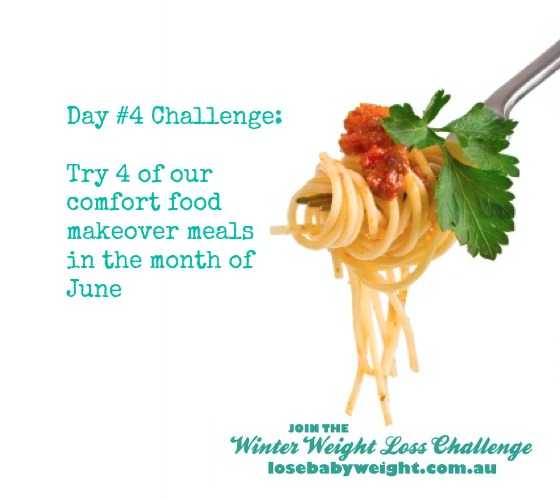 There's nothing like a drop in temperature to have us all reaching for something warm and comforting to fill our bellies.
But when you are trying to eat healthy food, a lot of the time 'comfort' can equate to 'not great' in the weight loss side of things.
A sticky date pudding or a side order of creamy mashed potato are enjoyable for sure, but perhaps not for everyday meals.
So how do you satisfy your craving for something tasty and filling without undoing all the hard work you've already put in?
At Lose Baby Weight we are focused on enjoying a balanced, healthy diet that doesn't restrict or remove food groups.
We've found that this is the best way to ensure gradual and sustained weight loss.
This means that comfort foods don't have to be off the menu, they just need to be tweaked slightly to create something nutritious and delicious!
So try 4 of our comfort food makeovers in the month of June and see if they satisfy your comfort food cravings.

GET YOUR 10% DISCOUNT
If you are ready to lose weight then the Lose Baby Weight plans offer a healthy and safe exercise and diet routine and you can get a 10% discount by using code LOYALTY at the checkout
PLUS our BEST SELLING 28 Day Diet & Exercise Plan has now launched as an 84pg Printed Book and you can get your copy here 
Click HERE to see our shop