When the weather cools down a little there is nothing better than tucking into a steaming hot bowl of soup.
And when the soup has this much flavour and this many healthy ingredients, you can feel good knowing that you're filling up on a nutritious meal.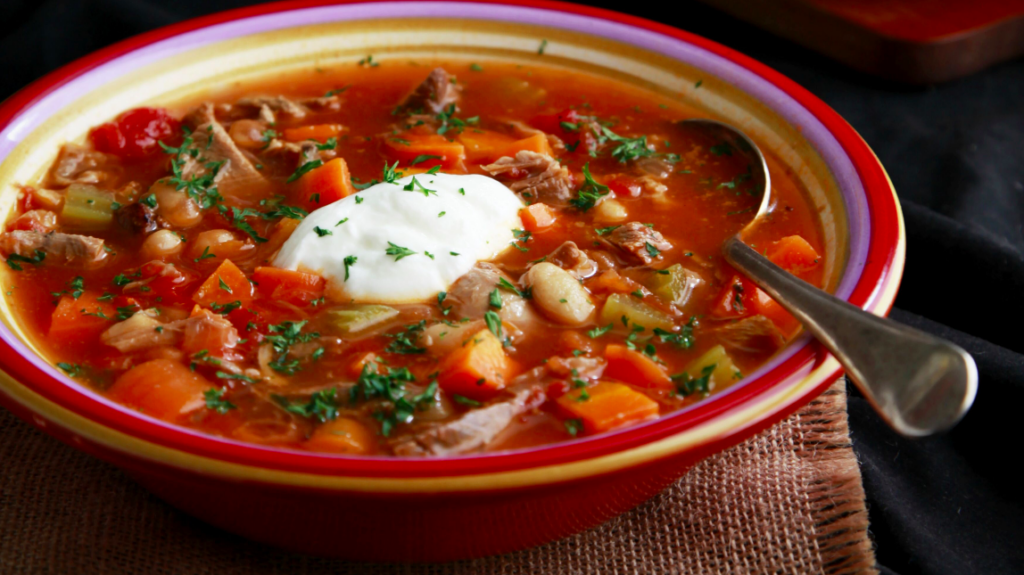 Lamb shanks really benefit from long, slow cooking like this.
When cooked in this way the meat just falls off the bone and is super tender and tasty.
This soup is all made in the one pot and reheats well the next day for lunch. The picture doesn't really do it justice – trust me, you will love this one.
Ingredients:
2 lamb shanks
1 tbsp olive oil
1.5L vegetable stock
2 red onions, peeled and diced
2 carrots, peeled and sliced
½ tsp cinnamon
½ tsp cumin
½ tsp turmeric
½ tsp ginger
½ tsp chilli
½ tsp nutmeg
400g tin of diced tomatoes
1 cup of chopped pumpkin or sweet potato
1 corn cob, corn removed
½ cup dry pasta shells or macaroni (optional)
2 big handfuls of baby spinach
A handful of fresh coriander
A handful of fresh parsley
Lemon wedges, to serve
Method:
Heat half the oil in a large saucepan and brown the shanks, then set aside.
Heat the rest of the oil and cook your onions and carrot for 4 minutes.
Add the dried spices and cook for a further minute.
Add the stock and the shanks and bring to the boil, then reduce to a simmer and cook for 2 hours.
Remove the shanks and set aside to cool.
Add the pumpkin or sweet potato, the corn, and the pasta, and cook for a further ten minutes.
Remove the meat from the shanks, discarding any fatty parts. Cut into small pieces and add back to the pot. Season to taste.
Add the baby spinach along with the coriander and parsley.
Serve into bowls and squeeze a wedge of lemon over the top before serving.
Serves: 8. Calories per serve: 299.