It can be difficult finding low fat, low calorie recipes that the whole family, including your husband, will enjoy. Low fat food has a bit of a reputation as being a boring, full of vegetables and lacking in flavour. Luckily, we've come up with five husband-friendly recipes that are still healthy, low in fat but still high in flavour.
Steak and Chips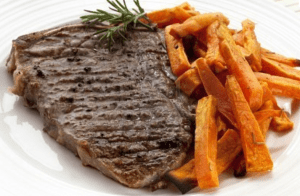 Steak and chips is one of the tastiest meals you can ever prepare – but it doesn't have to be full of fat. Bake chips in the oven and dry-fry your steaks to really cut out the fat and calories. Serve this meal with some tomato ketchup and a big green salad.
Ingredients:
2 lean fillet steaks
2 sweet potatoes
1 tsp. olive oil
Salt, pepper, paprika and 1 tsp. dried mixed herbs
Tomatoes and spinach leaves
Method of Preparation:
Cut the potatoes into long, thin chips. Put into a saucepan filled with cold water and then bring to the boil. Cook for five minutes, then drain.
Sit the drainer on the sink for a few minutes to dry the chips and then drizzle with little olive oil, mixed herbs and a pinch of salt, pepper and paprika. Lay in a single layer on a baking tray and cook for 30-40 minutes in a 200C oven until golden and crisp on the outside.
Meanwhile, season the steaks with salt and pepper. They should be at room temperature before you cook them.
Cook the steaks in a hot frying pan for 3-4 minutes on either side, or less, depending on how you like your steak cooked.
Serve with a spinach and tomato salad – excellent for your and your mans health!
This recipe serves two.
Calories per serve – 475
---
Turkey Burgers
Most men love a good burger – especially if it's topped with cheese and served in a big floury bun. But there is a way to make burgers low fat, low calorie and filling to boot.
Ingredients:
250g turkey mince
1 egg
1 tbsp. freshly chopped thyme leaves
Salt and pepper
2 50g wholegrain buns
2 slices low-fat mozzarella cheese
Spinach leaves
2 thick slices of tomato
Method of Preparation:
Mix together the turkey mince, egg, thyme and salt and pepper. Shape into two patties.
Grill the turkey burgers on either side until fully cooked through. Lay a slice of cheese onto each burger for the last 30 seconds of cooking.
Slice the wholemeal bun through the middle, leaving it intact on at least one side. Serve the burger on the bun with the spinach and the tomato.
This recipe makes 2 servings.
Calories per serve – 366

---

Low Fat Spaghetti Bolognese
Spaghetti bolognese has a bit of a reputation for being high in fat – but if you make it with chicken mince or even vegetarian mince, you really cut out a lot of the fat.
Ingredients:
1 x 400g tin tomatoes
200ml beef stock
450g chicken mince
1 onion
1 carrot
1 celery stick
1 garlic clove
1 tbsp. tomato puree
200g thinly sliced mushrooms
1 tbsp. dried Italian herbs
1 tbsp. freshly chopped basil
Salt and pepper
1 bay leaf
1 tsp. oil
300g wholemeal spaghetti
Cheese to serve
Method of Preparation:
Finely chop the onion, carrot, celery stick and garlic clove so that they are all the same size and very finely diced. Heat the oil in a frying pan and cook the chopped vegetables until softened and sweet. Add the tomato puree and cook for two minutes, then add the chicken mince and cook until no longer pink.
Add the tomatoes, stock, mushrooms, dried herbs, basil, salt and pepper and bay leaf. Bring to a simmer and cook for at least one hour. Remove the bay leaf.
Meanwhile, cook the spaghetti according to packet instructions. Serve the sauce tossed with the spaghetti and sprinkle cheese over the meal if you like.
This recipe makes 4 servings.
Calories per serve – 503
---
BBQ Pulled Pork Fajitas

This tasty pork recipe is super simple to make – prepare the sauce, then put the sauce and the pork into a slow cooker and cook for 16 hours. That's it! Serve with a big green salad and a pot of potato salad.
Ingredients:
500g lean pork escalopes
500ml Passata
1 onion
8 tbsp. balsamic vinegar
4 tbsp. artificial sweetener
2 tbsp. Worcestershire sauce
2 tsp. paprika
1 tsp. dried chilli flakes
1 tsp. fennel seeds
Salt and pepper
Method of Preparation:
Finely chop the onion, then dry fry over a low heat until soft. Add the Passata, balsamic, sweetener, Worcestershire sauce, paprika, chilli, fennel and salt and pepper. Simmer for half an hour.
Put the pork into the slow cooker and cover with the sauce. Cook on low for 8 hours and then lift the pork out and shred with two forks.
Put the pork back into the sauce then cook on high for another 3-4 hours or until the mixture becomes thick
Serve with wholegrain brown rice or wholemeal fajitas.
This recipe makes 4-6 servings.
Calories per serve – 495
---
Cheese and Caramelised Onion Tartlets
These tasty tartlets are far simpler to make than you might think and the decadent flavours of the cheese and soft sweet onion will fool you into thinking you're eating something with much more fat and calories.
Ingredients:
4 x filo pastry sheets
2 red onions
50ml white wine vinegar
Salt and pepper
200g extra-light soft cream cheese with herbs
Method of Preparation:
Cut the filo sheets into 8 squares each. Cover the filo you're not using with a damp tea-towel.
Layer 2 or 3 squares of filo pastry into the holes of a 12-hole muffin tin. Be careful not to tear the pastry. Once you've filled all the holes, pop into a 200C oven for five minutes until browned.
Meanwhile, finely chop the onions. Cook them in a dry frying pan over a low heat until very soft – this could take up to 45 minutes. Add the vinegar then cook until the vinegar has absorbed into the onions, then season well.
Divide the onion mixture between the tartlets then top with the cream cheese. Put back into the oven for 2-3 minutes until warmed through and then serve.
This recipe makes 4 servings if you have this as a main course.
Calories per serve – 188
---
Low Fat Chicken Tikka Masala
This isn't a traditional tikka masala, but it's still wonderfully tasty and surprisingly low in fat and calories.
Ingredients:
2 chicken breasts, skinless, all fat removed
150g 0% fat Greek yoghurt
½ 400g tin chopped tomatoes (200g)
200ml light or low fat coconut milk
2 generous tbsp. tikka masala curry paste
1 onion
Handful fresh coriander
Salt to taste
Oil spray
Method of Preparation:
Chop the chicken breasts into cubes. Place into a bowl, along with the yoghurt and 1tbsp. of the curry paste. Season with salt, stir well and then cover with cling film before placing into the fridge overnight.
When you come to cook the curry, wipe the marinade off the chicken. Place onto a baking tray and cook in a 220C oven for ten minutes. Meanwhile, thinly slice the onion.
Heat the oil spray in a large pan and add the rest of the curry paste. Cook for two minutes until fragrant, then add the onion and turn the heat down low. Cook slowly for ten minutes until sweet and browned.
Stir in the Passata and the coconut milk and bring to a simmer. Add the cooked chicken and then simmer for 5 minutes until cooked through.
Finely chop the coriander and stir this through the curry before serving.
This recipe serves two, and contains 375 calories per serving. Add a 50g portion of cooked basmati rice for an extra 150 calories per serving or serve with some grated steamed cauliflower.
---
Low Fat Chicken Kiev
Although this recipe calls for flavoured soft cheese, if you can't find any, add two crushed garlic cloves and a good tsp. of mixed dried herbs to normal soft cheese.
Ingredients:
4 chicken breasts, skinless and boneless
125g very low fat soft cheese flavoured with garlic and herbs (add 1 or two crushed garlic cloves depending on personal taste)
50g wholemeal breadcrumbs
1 egg white
2 tbsp. plain flour
Salt and pepper
Oil spray
Method of Preparation:
Put the chicken breasts between sheets of parchment paper or cling wrap and bash with a rolling pin until flattened.
Soften the cheese by mixing it well with a spoon. Season it with salt and pepper, then put a quarter of it into the middle of each flattened chicken breast. Roll the chicken breast up, covering the filling, and fix in place with cocktail sticks.
Pour the flour into one shallow dish, beat the egg white and put it into another then put the breadcrumbs into a third dish.
Dip the chicken first into the flour, shaking to remove excess, then into the egg white, then into the breadcrumbs.
Put the chicken into an oven dish spritzed with oil spray, then cook at 190C for 35-40 minutes.
Recipe serves 4, calories per serving: 254. Serve the chicken with homemade oven-baked wedges or a big green salad.
---
Prawn and coconut curry
1 x tbsp of olive oil
4 cloves of garlic
1 red onion chopped up
1 large green chilli deseeded and chopped up
1 red capsicum
1 tbsp of tomato paste
1 bunch of brocolli
3 large tomatoes – diced
1/4 of a cup of mild curry paste
1 cup of vegetable stock – salt reduced
1 cup with carnation evaporated coconut flavored milk non fat – or use a different brand
350g of prawns
1 bunch finely chopped corriander
1 cup of basmati or wholegrain rice
Directions
Heat the oil in a pan and lightly cook the onion, garlic, capsicum, brocolli, tomatoes and chilli. Next add the curry paste and tomato paste.  Next add the stock and evaporated milk and simmer for 10 minutes. Then add in the prawns and corriander and cook for a further 10 minutes then tada serve with your rice!  The wholegrain rice is a better option as it is packed with fibre but the basmati rice is low GI so still a good option.
Calories per serve – 400
---
Healthy Nachos
A couple of easy switches turn this family favourite into weight loss friendly food.
Ingredients
4 wholemeal tortillas
200g can diced tomatoes
1 x cup red and green capsicum, diced
1 x cup sweet corn
1 x cup salt reduced refried beans
1/2 x cup grated reduced fat cheese
1 tsp paprika
1 avocado
2 tbsp low fat Greek yoghurt
Directions
Preheat oven to 180C
Cut tortilla's into triangles, spread onto two baking trays and place in the oven.
Bake for 5-10 minutes or until golden then remove and set aside.
In a small saucepan, combine tomatoes, capsicum, corn, paprika and beans.
Stir over a medium heat until ingredients begin to meld together.
Seperate tortilla chips into four bowls, top with bean mixture then sprinkle over cheese.
Place under a hot grill for 5 minutes or until cheese melts.
Top with avocado and Greek yoghurt to taste.
Makes 4 servings – Cal per serve 310
---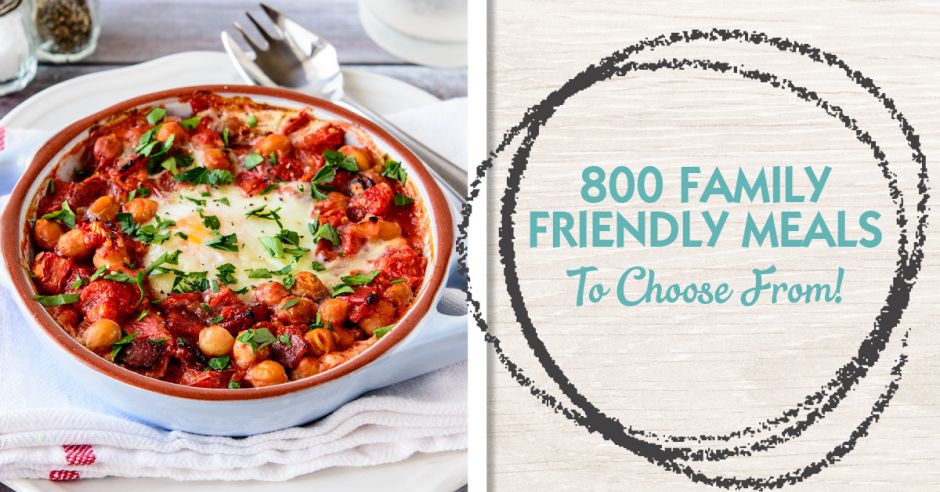 To see our recipes for Traditional High Fat meal makeovers click here