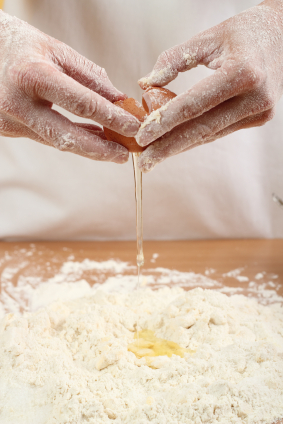 Feel like doing a little cooking but missing some vital ingredients? Never fear!
Check out our ideas for some easy switcheroos.
Buttermilk – use regular milk. Place 1 tbsp of white vinegar or fresh lemon juice into a measuring cup. Top up with milk to make 1 cup. Leave for 5 minutes and you are ready to roll.
Pesto – place 1 clove of garlic, 2 tbsp olive oil, 2 spring onions and a bunch of ANY herb in a blender/food processor. You could also use baby spinach or Asian greens such as bok choy for a different twist.
Breadcrumbs – depending on what you are making there are many options. Crush some Weet Bix to use for crumbed cutlets, use shredded coconut to coat a chicken thigh, coarsely chop some pistachios to use as a crust on salmon, place some Vita Weats in a food processor to use to bind a burger, pulverise some oats to use in a meatloaf.
Egg – if you need an egg for some baking but the carton is empty, you can use white chia seeds. To replace 1 large egg, soak 1 tbsp white chia seeds in 3 tbsp water for 5 minutes. This is also a great option if anyone has an allergy.
Self-Raising Flour – you can use plain flour. Add 2 teaspoons of baking powder to each cup of plain flour to make your own self-raising flour.
Rice – use cauliflower. Yes, you read that correctly. Use your food processor to 'rice' your cauliflower florets (or you could use a grater but it may take a while). Be careful not to pulverise them, just process enough until it looks like rice. Naturally, it isn't going to taste like rice, but it's more about thinking outside the square and trying something new (and VERY low calorie). Cauliflower rice works well with a spicy curry or a hearty beef stew.
Pasta – use zucchini. Use your peeler to make ribbons with the zucchini and then throw in with the pasta sauce to warm through. Again, it's not going to taste like pasta but it is really delicious! You can also use these to add some extra veggies to your lasagne.
Wine – if the cupboard is bare, you can usually just use stock instead. Try to use salt reduced stock as regular stock can be high on the sodium.
Have you got any great substitutes you would like to share? We'd love to hear from you in the comments!
 
GET YOUR 10% DISCOUNT
If you are ready to lose weight then the Lose Baby Weight plans offer a healthy and safe exercise and diet routine and you can get a 10% discount by using code LOYALTY at the checkout
PLUS our BEST SELLING 28 Day Diet & Exercise Plan has now launched as an 84pg Printed Book and you can get your copy here 
Click HERE to see our shop