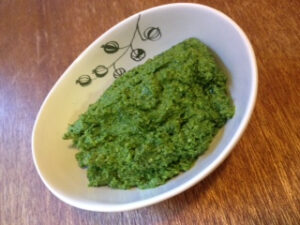 A lot of people think that pesto is one of those things that needs to be bought in a jar.
Well there's no need for that any more – when you see just how easy it is to make your own, you'll never look back.
Pesto is a power house of nutrition, as it contains healthy herbs, protein rich nuts, heart happy oils and some plain delicious Parmesan cheese.
You can really tweak this to your hearts content.
Try mixing up the herbs that you use. Basil is the go-to herb but you can really use anything that takes your fancy, such as rocket, coriander, baby spinach, broccoli (yes, broccoli!) or parsley.
You can also switch up the nuts – try using toasted pine nuts, almonds, pistachios, cashews, pumpkin seeds, or again, a mixture tastes great too.
Plus you can change the colour completely by adding some of your other favourite flavours – such as sundried tomatoes or grilled capsicum.
Commercial pesto is generally very oily, but there is no reason yours need to be.
I find that the recipe below makes a somewhat more dry pesto than you may be used to, but it really tastes great. Especially if you are going to mix the pesto with other ingredients such as cream cheese or avocado – you won't miss the oil at all.
I made some this morning (pictured) and it took all of about one minute.
My toddler loves this pesto mixed with cream cheese on a sandwich, but there are so many ways to use it.
11 ways to use pesto:
Mixed with cottage cheese and used as a dip with steamed chunks of zucchini
Pop it on the top of some grilled fish
Dollop on top of a home made soup such as Pea and Asparagus; Minestrone; or Pumpkin Soup
Serve it along side some BBQ'd lamb chops
Mix it into some sour cream and smear on top of a jacket potato
Use it as a very simple pasta sauce – add a little natural yoghurt for some creaminess
Mix it with some avocado for a mock-guacamole
Use it as a final flourish on a veggie burger
Add it to your favourite muffin recipe for an extra healthy kick
Drip it all over a home made pizza along with some chicken and feta
Add it to some steaming hot peas or beans
This will keep for a week in the fridge in a sealed container. For best results, cover the top with a little extra olive oil to stop it from discolouring.
Ingredients:
One bunch of parsley
1/2 cup of walnuts
1/3 cup grated Parmesan cheese
1 garlic clove, peeled
4 tbsp olive oil
Salt and pepper to taste
Method:
Place the herbs, nuts, cheese and garlic into a blender or food processor.
Process until well combined. Add the olive oil and blend again, before seasoning to taste.
You may need to use some extra olive oil if the consistency looks a little too dry.
Serves: 8. Calories per serve: 130.

GET YOUR 10% DISCOUNT
If you are ready to lose weight then the Lose Baby Weight plans offer a healthy and safe exercise and diet routine and you can get a 10% discount by using code LOYALTY at the checkout
PLUS our BEST SELLING 28 Day Diet & Exercise Plan has now launched as an 84pg Printed Book and you can get your copy here 
Click HERE to see our shop