Beetroot has been hailed as a "super food" numerous times over the last few years, and with good reason – beetroots are incredibly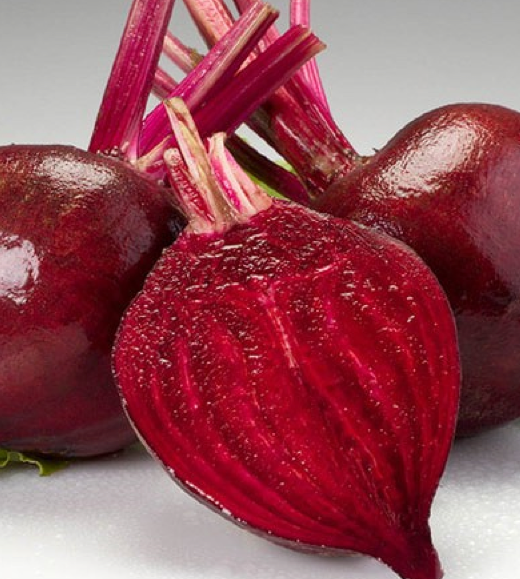 flavourful and they are jam-packed with nutrients and vitamins, as well as plenty of disease preventing properties.
So with this in mind they are a great addition to your pregnancy weight loss plans and Lose Baby Weight healthy eating plans
Beetroots are also far more versatile than you might imagine, especially when you prepare them from fresh. You can roast them, pickle them, steam them or fry them, or you can enjoy them in your Healthy Mummy Smoothies.
The health benefits of beetroots
Beetroots are a rich, deep purple colour, and this colour is actually the beta cyanin within the beetroot. Beta cyanin is a powerful antioxidant which can help to remove toxins from your liver, helping to remove toxins from your bloodstream. Beta cyanin can also help to remove fatty deposits from your bloodstream, which can lower your cholesterol and therefore your risk of heart disease.
Recent research has shown that regular consumption of beetroot or beetroot juice can help to lower your blood pressure, which in turn reduces your risk of heart disease and stroke. Beetroots contain high levels of nitrates and when food containing nitrates is consumed, nitric oxide is released into the bloodstream which helps to widen the blood vessels, which in turn reduces blood pressure.



The research suggested that daily consumption of either 250ml beetroot juice or 1-2 cooked beetroots, around 100g, could dramatically lower blood pressure levels, making it a bit of a wonder food for high blood pressure patients.
Beetroot is also rich in folic acid, which is essential for healthy tissue growth and cell repair. Folic acid is absolutely crucial to the development of a baby's spinal cord, which makes beetroot an excellent food to eat during pregnancy. It also contains iron, which is a great nutrient to combat fatigue.
Beetroot can help to reduce cholesterol levels, too – it contains soluble fibre, and research has suggested that soluble fibre can reduce cholesterol levels. It also contains flavonoids and carotenoids, which are known to reduce the levels of bad cholesterol whilst improving the levels of good cholesterol.
Beetroot and weight loss
Beetroot is also an excellent food for weight loss and for including on your Lose Baby Weight pregnancy weight loss plans. It is very low in calories, containing around 38 calories per 100g of beetroot, along with just 0.1g of fat.
It has a very low glycaemic load, which means that when you consume it, it is very slowly converted into energy, which means that it won't overload your bloodstream with sugars. This prevents blood sugar highs and therefore blood sugar lows, which can lead to cravings of sugary and fatty foods.
Beetroot is also rich in insoluble fibre, which is a fibre that our bodies cannot digest. Because we cannot digest it, it has to be expelled through our body as a waste material.
Insoluble fibre helps us to go to the toilet more often, which ensures a healthy digestive tract and a healthy bowel, which reduces your risk of bowel cancer.
Eating insoluble fibre can help to boost your metabolism and it can also help you to lose weight as the food that you consume helps to fill you up, but as you cannot digest it, you don't take in as many calories from it.
Including a few beetroot in your everyday diet can really help to boost your weight loss and improve your health. Here's a beetroot recipe to help you make the most of this delicious root vegetable.
Beetroot and Goat's Cheese Salad
This easy salad is perfect for serving as a dinner party starter or as a filling lunch.
Ingredients:
6 beetroots
60g walnuts, toasted
2 tbsp. extra-virgin olive oil
1 tbsp. balsamic vinegar
1 pinch each dried oregano, salt and black pepper
75g soft goat's cheese
100g each baby rocket leaves and baby spinach leaves
Directions
Place the beetroots into a pan of boiling salted water and simmer for 15-20 minutes until fork tender. Leave to cool until you can handle them, then peel the beetroots, pat dry and chop into bite-sized chunks.
Whisk the oil, balsamic, oregano, salt and pepper together. Drizzle over the beetroots. Divide the rocket and spinach leaves between 6 plates. Top with the beetroot salad and then dot the goat's cheese over the beets and sprinkle with toasted walnuts. Add extra salt and pepper to taste.
Recipe serves 6, calories per serve: 192.



If you are keen on more beetroot recipes you can see some of our picks below:
If you are ready to lose weight then the Lose Baby Weight plans offer a healthy and safe exercise and diet routine or you can join the 28 Day Weight loss Challenge

And don't forget to check out our current promotions and discounts page to see what specials we have on this week on our Healthy Mummy product range