Serves 6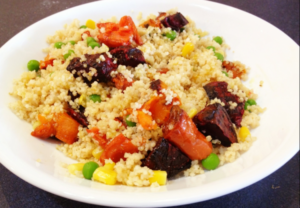 Ingredients:
2 cups of whole wheat couscous
1 cup of quinoa
4 carrots
2 beetroot
2 sweet potatoes
1/4 pumpkin
1 cup frozen peas
1 cup frozen corn nibblets
Olive oil
Salt to taste
Method:
Cut carrots, beetroot, sweet potatoes and pumpkin into roasting sized chunks and dress in olive oil. Roast all these vegetables in oven until soft and caramelised on the outside (around 1.5 hours at 200 degrees).
Cook couscous and quinoa as per instructions on pack.
Steam corn and peas until hot
Once vegetables have roasted, cut into small pieces, around 1cm square.
Mix all vegetables, quinoa and couscous together in a large bowl. When serving, drizzle olive oil over the top and add salt to taste.
Tips:
– I cook up this quantity at the beginning of the week and then take individual serves for lunch.
– Try adding different proteins; chicken or tuna can add another interesting flavour.
– The ratio of couscous and quinoa can be changed to your liking.
– You can use whatever vegetables you have, I just love the flavours of these particular ones roasted!
Enjoy!
This delicious recipe was sent in by Kathryn Loef
Need to stock up on Healthy Mummy Smoothies? Then see our shop here
And join our 28 Day Weight Loss Challenges here