Light Caesar Salad
1 cos lettuce
100g Greek or natural yoghurt
2 tbsp olive oil
6 tbsp grated Parmesan cheese
1 garlic clove, chopped finely
1 tbsp Worcestershire sauce
Juice and zest of ½ a lemon
2 slices of wholemeal bread, cut into cubes
Salt and pepper, to taste
Heat your oven to 180C. Place bread onto a baking tray and cook for 5-10 minutes until crispy and browned. Make the dressing by mixing the yoghurt, olive oil, half of the Parmesan, garlic, mustard, and lemon with salt and pepper. Chop the lettuce and place in a salad bowl. Add your croutons, then top with the salad dressing. Toss to combine. Add the rest of the Parmesan before serving.
Serves: 4. Calories per serve: 210.

Beetroot, Bean And Goats Cheese Salad
This tasty, vegetarian friendly salad takes less than 10 minutes to prepare and will have you feeling full till dinner time.
Ingredients
1 x 400g can baby beetroots, drained and halved
1 x cup rocket leaves, washed and drained
200g green beans, topped and tailed and cooked until tender
150g goats cheese, crumbled (you could also use fetta)
1/2 cup pinenuts
2 tbsp extra virgin olive oil
1 tbsp lemon juice
1 tbsp red wine vinegar
1 tsp wholegrain mustard
Olive oil spray
Directions
Spray a medium sized frypan with oil spray and heat over medium/high heat
Lightly toast pinenuts in the frypan till golden brown in colour.
Set aside on absorbent paper to cool.
Place rocket, beetroot halves and green beans in a large salad bowl.
Crumble goats cheese over the top
In a small, screw top jar, combine olive oil, vinegar, lemon juice and mustard, shake till well combined.
Drizzle dressing over the salad then sprinkle on the toasted pinenuts.
Makes 4 servings – Cal per serve – 193
---
Spinach, Mango And Walnut Salad
Up your antioxidants with this health and delish nutty salad.
Ingredients
1/2 x cup raw walnuts
1 x cup baby spinach leaves
1 x large avocado, diced
1/2 x mango, diced
1/4 x red onion, finely sliced
3 x tbsp extra virgin olive oil
1 x tbsp lemon juice
1 x tbsp balsamic vinegar
1/2 x tsp wholegrain mustard
Directions
Pre-heat the oven to 180C
Line a baking tray with non-stick baking paper and spread nuts evenly across tray
Toast nuts for approx 5 min till golden in colour
Roughly chop nuts so that they end up in bite sized pieces
Combine spinach, red onion, avocado, mango and walnuts in a large salad bowl
In a small jar or cup, whisk together olive oil, vinegar, lemon juice and mustard
Drizzle dressing over salad and serve immediately
Makes 6 servings – Cal per serve – 145
---
Chicken, Beetroot and Goats Cheese Salad
This super easy salad uses pantry staples like tinned beetroot with healthy proteins for a filling, nutritious lunch or light dinner.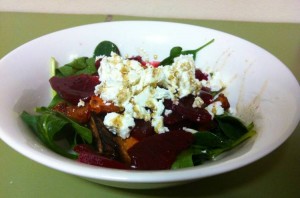 Ingredients
2 cups of baby spinach leaves
Half a chicken breast poached, grilled or taken from a BBQ chicken (I use the breast meat from a BBQ chicken. Just make sure you remove all skin).
A handful of sweet potato chunks roasted or steamed
5 snow pea's, topped and tailed and cut in half.
5 whole baby beetroots (from a can) chopped in half.
A small wedge of goat's cheese broken up into smaller pieces.
Tbsp. olive oil.
Tbsp. balsamic vinegar.
Directions
Pat baby spinach leaves dry and place in a large bowl.
Shred chicken breast into small pieces and place on top of spinach.
Add sweet potato chunks, snow peas and beetroot.
Sprinkle goat's cheese on top of other ingredients.
Combine olive oil and balsamic vinegar in a small jar or whisk together in a cup/small bowl with a fork and drizzle over the top of the salad (I use a ready mixed oil/vinegar dressing, available at Coles and Woolworths)
NB you can add any vegetables you like to this combination to up the nutrient count. Grated carrot, corn kernels and cucumber slices all work well. The only limit is your imagination!
Serves 1- Calories per serve – 490
---
Lamb & Beetroot Salad
Lean lamb steaks – 1 steak per person
4 tablespoons of almond meal
Bunch of fresh basil
Bunch of fresh parsley
A small amount of fresh thyme
4 large beetroots
1 large red onion
1 large red capsicum
1 bunch of spring onions
1 bag of spinach or rocket leaves
Low fat feta cheese ( a few squares chopped up and added to the salad)
1 lemon
Olive oil
Sea Salt and black cracked pepper
Directions
Finely chop the fresh herbs and combine with the almond meal.  Coat the lamb with the almond meal and chopped herbs and grill or fry in a little olive oil and on a low heat until cooked.  Then slice the lamb into strips and set aside to add into your salad.  Roast the beetroot and red onion until tender then cut into quarters.  Then in a large bowl combine all of the ingredients and pour over 2 tablespoons of olive oil, the juice of the lemon and some cracked black pepper and salt.  Too easy and delicious.
---
Chargrilled Vegetable Salad
This recipe combines some beautiful flavours – sweet red capsicum, red onion, courgette and egg plant. The veggies are charred on a griddle pan, then tossed with a lightly spiced vinaigrette and some creamy feta cheese.
Ingredients
1 large red capsicum
1 yellow capsicum
1 large courgette
1 egg plant
1 red onion
10 cherry tomatoes
Cooking spray
Salt and pepper
2tbsp. extra-virgin olive oil
1 tbsp. red wine vinegar
½ tsp. each smoked paprika and ground cumin
Salt and pepper
100g low fat feta cheese
1/2 cup of cous cous
Small handful freshly chopped parsley
300g mixed salad greens
Method:
Slice the capsicums in half. Remove the seeds and white pith from the pepper and slice into thick strips. Thinly slice the courgette, discarding the round ends. Slice the top and bottom off of the egg plant, then thinly slice. Peel the red onion, then slice into thin wedges.
Spray the pepper, courgette, egg plant, tomatoes and red onion well with cooking spray. Season well with salt and pepper. Lay the vegetables on a hot griddle pan and cook them until charred on either side. Take off the heat and place into a bowl. Cover the bowl with cling film.
Meanwhile, prepare the dressing. Whisk together the olive oil,vinegar, paprika, cumin and salt and pepper to taste. Crumble the feta.
Soak the cous cous in boiling water and leave for 5 minutes until cooked
Toss together the charred vegetables, discarding any water that may have come out of them, with the salad greens, cous cous and salad dressing. Divide between two plates. Sprinkle with feta and parsley to serve.
Recipe serves 2. Calories per serving: 327.
---
Mango and Prawn Salad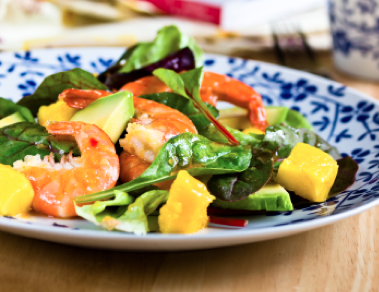 Ingredients
200g tiger prawns, head removed, deveined
150g baby spinach leaves
1 small bunch salad onions
Handful of chopped fresh mint
½ red chilli
1 garlic clove
Juice of 1 ½ limes
2 tbsp. white wine vinegar
1 avocado
1 medium mango
Salt and pepper
Small handful freshly chopped coriander leaves
Cooking spray
Directions
Heat cooking spray in a frying pan. Season the prawns with salt and pepper, add to the pan and fry until pink and opaque.
Meanwhile, thinly slice the salad onions on the diagonal. Slice the chilli in half and remove the seeds with the back of your knife, then finely dice. Mince the garlic clove. Slice the avocado in half around the stone, twist to halve and then remove the stone with your knife. Use a teaspoon to scoop out chunks of the flesh.
Remove the seeds from the melon and remove the skin. Dice.
Mix together the salad onions, chilli, garlic, lime juice, white wine vinegar, salt and pepper in a large bowl. Cover and leave to sit for at least half an hour.
Stir in the prawns, mango, coriander and avocado just before serving. Serve over baby spinach leaves.
Recipe serves 4. Calories per serving: 210.
---
Bean & Chicken Salad
Ingredients
1 large tin of mixed beans – or use a mixture of beans/lentils you already have open. You can be as creative as you like with the beans and use any ones you like – they are so good as they are packed full of protein, fibre and goodnedd
1 x finely chopped red onion
1 x finely chopped bunch of corriander
1 x finely chopped bunch of mine
3 x chopped up tomatoes
1 x grated lemon zest
1 x tbsp of olive oil and 3 x tbsp of balsamic vinegar for the dressing
Simply mix everything into a bowl and dress with the dressing – you can add other salad ingredients too depending on what you have in the fridge.
For the chicken drumsticks, I just roast in the oven for 25 mins with some sea salt sprinkled on. And then serve with some fresh spinach leaves topped with tomatoes and cucumber – plus a little vinegarette dressing – a tasty and healthy dinner in super quick time! And click here to see more easy dinner recipes
---
Spinach and Seed Salad.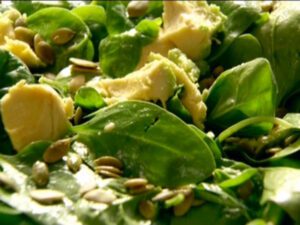 This will leave you feeling full and satisfied and the crunch from the seeds really makes for an interesting snack.
Ingredients
Handful of baby spinach leaves
Half a small avocado, chopped
6 or 7 cherry tomatoes cut in half
1 mushroom, chopped
1Tblsp sunflower seeds
1 Tsp sesame seeds
Balsamic vingar
Directions
Heat a small frypan and dry roast the sunflower and sesame seeds until they are lightly coloured. Combine the rest of the ingredients in a bowl and dress with balsamic vinegar. Add the toasted seeds and serve immediately.
---
Pear and Walnut Salad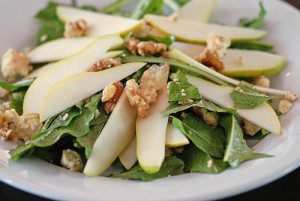 This salad is real treat, the combination of the maple syrup and walnuts is just delicious.
Ingredients
1 large lettuce leaf, shredded
Half a pear, chopped
6-8 walnuts
1 Tbsp maple syrup
1 Tbsp cottage cheese.
Directions
Pre-heat oven to 180º. Combine the walnuts and maple syrup and toss to coat the nuts in the syrup. Put on a baking tray and bake in the oven for 10 minutes or until the nuts are toasted and sticky. While the nuts are toasting combine the rest of the ingredients in a bowl and toss to combine. Top the salad with the nuts and serve immediately.
---
Sensational Summer Salad
This is a brilliant salad that is husband approved and only takes about 5 minutes to put together (depending on how long it takes to boil your kettle!)
1/2 cup cous cous
1/2 cup boiling water
1 tsp ground cumin
1/2 tsp ground coriander
1/2 tsp ground tumeric
1/2 tsp cinnamon (helps to control insulin spikes)
1 tbs olive oil (metabolism booster)
handful of sultanas
corn
20g toasted pine nuts (high protein nut which can help to suppress appetite)
torn baby rocket
coarsely chopped fresh coriander
Put cous cous and sultanas into a bowl. Measure out water and add spices and oil to the water and stir. Pour over the couscous. Cover and stand for 2-3 minutes (as per packet directions). Once the time is up, fluff up the cous cous with a fork and add everything else to the cous cous. Finish with a squeeze of lemon juice.
NB: you can add whatever veges you like – roasted pumpkin cubes,blanched beans, broccolini or asparagus, fresh or roasted capsicum, peas, chick peas and you can use cranberries instead of sultanas if you like too.
Serves 2.
---
Chilli & Lemon Calamari
Ingredients
Fresh calamari

4 lemons

Finely diced chilli or chilli paste

2 cloves of crushed garlic or garlic paste

Chopped coriander or coriander paste

Quinoa (half a cup per person)

Spinach or rocket leaves

Chopped spring onions

Chopped cucumber
Directions
Make a marinade for the calamari by mixing the chill, garlic, 2 of the juices from the lemon and coriander together.  Then cook the Calamari for five minutes in a hot pan.  Then cook the Quinoa for 10 minutes than add to a large bowl and mix in all of the other ingredients.  For the salad dressing mix together 2 juices from the lemons, 2 tbsp of olive oil and seat salt and cracked black pepper.  To serve put the Quinoa salad on a plat and pile the calamari on top – too easy and very tasty!
---
Chicken & Mango salad
Chicken Breast
Masterfoods Moroccan spices
Fresh Mango
Dijon Mustard
1 Orange
Desired salad fillings
Slice the chicken breast then coat in the spices – I use water for the spices to stick rather then oil. Cook through on a non-stick fry pan. (A spray of coconut oil adds a beautiful flavour to the chicken but is not necessary)
Add all your desired salad fillings. Tasty ones are spinach leaves, cos lettuce, grated carrot, diced cucumber and red capsicum.
For the salad dressing, add juice of aprox 1 orange (you might need a little more juice depending on how much you like on your salad). Add 1 tablespoon of dijon mustard and some cracked pepper, mix all together until the mustard and orange juice have combined. (I have tried this with and without olive oil in the dressing and cannot really find a difference without the oil.)
Pour through the salad, top with fresh slices of mango then add the chicken on top.
Enjoy!
---
Crumbed Asparagus Salad with Prosciutto and Goat's Cheese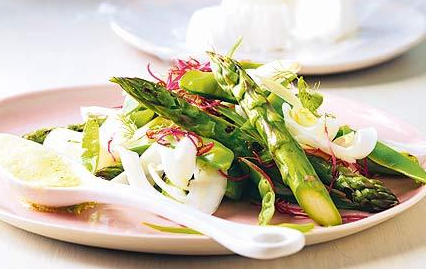 This simple salad is a wonderful side dish but it would also be tasty as a starter. If you want to, drizzle with a simple balsamic dressing before serving.
Ingredients:
3 bunches of asparagus
55g goat's cheese
Olive oil for frying
3 slices slightly stale wholemeal bread
50g cashew nuts
Small handful parsley leaves
2 spring onions
1 garlic clove
4 slices prosciutto ham
Salt and pepper
Method of Preparation:
Preheat the oven to 180C (160C fan).
Put the cashew nuts on one roasting tray and the prosciutto on another.
Cook the nuts for around 6-7 minutes and then remove from the oven. Leave the prosciutto in for another five minutes, then remove from the oven and crumble into small pieces. Set to one side whilst you make the crumb topping.
Put half the nuts into the jar of the KitchenAid Artisan blender with the bread, parsley, spring onions and garlic. Season with salt and pepper. Pulse the mixture for a few seconds at a time until everything is finely chopped and combined.
Snap the ends off of the asparagus spears. Bring a pot of boiling salted water to the boil, then drop the asparagus in and cook for around four minutes. Drain.
Meanwhile, heat the olive oil in a frying pan until foaming. Add the breadcrumb mixture and fry until browned and crispy. Sprinkle over the cooked asparagus along with the crumbled prosciutto, the rest of the cashew nuts and the goat's cheese. Season once more and serve.
If you want to, process the remaining cashew nuts in the blender before sprinkling over the asparagus. If you can't find prosciutto, use Parma ham or plain smoked ham.
---
Carrot and pineapple salad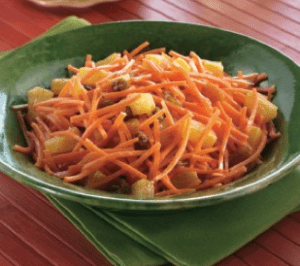 Ingredients (serves 12)
1 x 2.2kg pineapple, peeled, quartered

6 large (1.2kg) carrots, peeled, grated
Method
Remove core from pineapple. Cut each quarter into 3, length ways. Thinly slice. Place into a large serving bowl.
Add carrot to pineapple. Season with salt and pepper. Toss until well combined. Cover and refrigerate for 1 hour. Serve.
---
Spinach and capsicum salad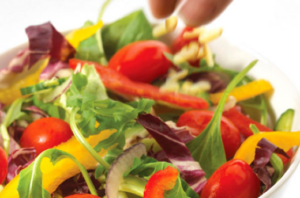 Ingredients (serves 12)
2 red capsicums, quartered

2 yellow capsicums, quartered

350g low fat feta cheese

2 tablespoons balsamic vinegar

300g spinach leaves
Method
Preheat grill on high. Line a baking tray with baking paper. Place capsicums, skin side up, onto tray. Grill for 10 minutes, or until skin blackens. Remove to a plastic bag. Stand for 10 minutes. Peel away skin. Slice flesh.
Drain and crumble feta, reserving 1/4 cup of oil. Shake oil, vinegar, salt and pepper in a screw-top jar until well combined.
Combine spinach, capsicums and crumbled feta in a large serving bowl. Pour over dressing. Toss gently. Serve.
---
Insalate Caprese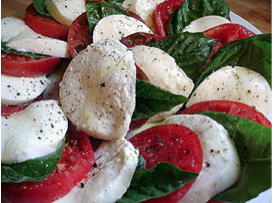 Insalate Caprese is an Italian salad compromising of basil, fresh tomato and fresh mozzarella – and it's full of bright. To make the salad lighter, use a skim mozzarella that is at least half the fat of usual mozzarella and fill up with more tomato and basil than mozzarella.
Layer thick slices of sun-ripened tomato with slices of mozzarella and fresh basil leaves. Sprinkle with a tiny bit of dried oregano to finish.
---
Potato Salad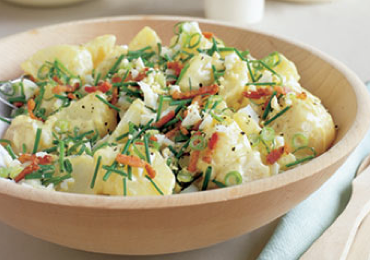 Potato salad is a favourite of many over the Christmas period, but the mayonnaise dressing can be full of fat.
Swap out the mayo and use either 0% Greek yoghurt or low-fat crème fraiche mixed with a dash of vinegar or lemon juice for acidity, some finely chopped shallots and some salt and pepper.
Add a bit of smokiness with some grilled lean bacon bits and mix everything together – chopped cooked potatoes, low-fat dressing and bacon bits for a tasty, creamy side dish.
---
Greek Salad
Greek salad is a delicious side dish to serve with any BBQ food, making it ideal for pairing with BBQ chicken or turkey. Combine cherry tomatoes, thinly sliced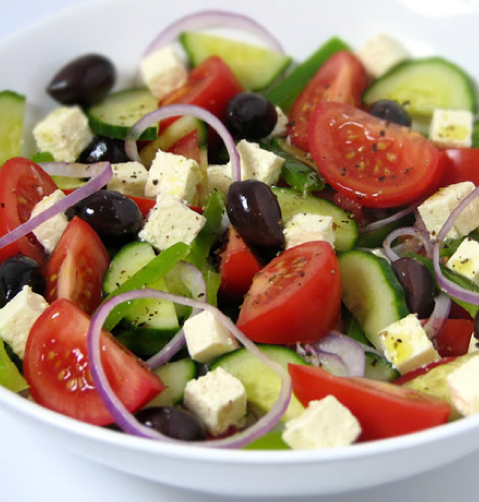 red onion, chunked cucumber with the seeds removed and rocket, then add a small handful of pitted olives that have been packaged in brine and crumble over some skim feta cheese or extra low-fat feta cheese.
Sometimes low-fat feta will be called salad cheese or Greek cheese, so you might have to look around for it.
Dress the salad with 1 tbsp. extra-virgin olive oil to 3 tbsp. lemon juice so that you minimise the amount of fat in the salad.
---
Colesaw with cashew nut dressing
Ingredients:
1/4 shredded green cabbage
1 red capsicum seeded and sliced
1/4 shredded red cabbage
100g chopped pineapple
1 red onion, thinly sliced
2 celery stalks, thinly sliced
2 grated large carrots
Cashew nut dressing
Freshly squeezed juice of 1/2 lemon
1/2 teaspoon of garlic powder
Pinch sea salt
80g cashew nuts
Method:
1. Soak the cashews in 125mls of water for 1 hour. Drain well.
2. Put the cashews into a food processor with the remaining ingredients (cashew nut dressing ingredients) and process until combined and almost smooth.
3. Just before ready to serve put all of the salad ingredients and the cashew nut dressing into a large serving bowl and toss gently to combine.
---
Four Bean and Avocado Salad
This super yummy salad couldnt be quicker or easier to prepare. It's perfect for lunch on the run.
Ingredients
1 can of four bean mix
1/2 a large avocado, diced into chunks
1 cup of baby spinach leaves, shredded
1/2 spanish onion, finely diced
1/2 cup reduced fat fetta cheese, crumbled
2 tsp lemon juice
2 tsp extra virgin olive oil
2 tsp balsamic vinegar
1 tsp wholegrain mustard
Directions
Remove beans from can and rinse in a colander before leaving to drain.
Pour washed and drained beans into a large bowl.
Add spinach, spanish onion and fetta and toss to combine.
In a small jar or jug, whisk together vinegar, olive oil, lemon juice and mustard.
Drizzle dressing over salad and serve immediately.
---
Beetroot, fetta and pomegranate salad
Ingredients
4 x raw beetroot, scrubbed, trimmed and chopped into quarters
100g rocket leaves, washed
2 tbsp pomegranate seeds
50g reduced fat fetta cheese, crumbled
1/4 cup flaked almonds
1 tbsp balsamic vinegar
1/2 tbsp maple syrup
2 tbsp extra virgin olive oil
1/2 tsp dijon mustard
Directions
Preheat oven to 170C.
Line a baking tray with foil and place beetroot quarters on tray.
Drizzle quarters with 1.5 tbsp of the olive oil and place in the oven to roast for 45 minutes.
While beetroot is roasting, heat a small frypan over medium heat.
Gently toast almonds for approx. 5 minutes, tossing around the pan constantly. Once golden in colour, set aside to cool.
When beetroot is done, remove from the oven and allow to cool slightly before removing the skin (when cooked through, skin should come away easily. You can use gloves to prevent hands from staining).
Place rocket leaves, beetroot quarters, toasted almonds, pomegranate and fetta in a large salad bowl.
In a small jar or cup, whisk together balsamic vinegar, maple syrup, the remaining olive oil and dijon mustard.
Drizzle dressing over the salad and serve immediately.
Makes 4 servings – Cal per serving – 382
---
Cranberry Waldorf Salad
Ingredients:
2 tablespoons Greek yoghurt
1 tablespoon lemon juice
Salt and pepper, to season
2 small red apples, washed and cubed
1 cup seedless red grapes
1 small carrot, cut into thin strips
1/2 cup diced mango
1/3 cup dried cranberries (you can use fresh/frozen too)
1/4 cup coarsely chopped walnuts
1/4 cup thinly sliced celery (about 1 stalk)
1 baby Cos lettuce, leaves shredded
Method:
Combine yoghurt and the lemon juice in a salad bowl. Season to taste with salt and pepper.
Add the apples, grapes, and cranberries; and mix together with a wooden spoon.
Add walnuts, carrot, mango, lettuce and celery, and mix well.
The salad tastes best if it has been refrigerated up to 2 hours before serving.
Serves: 4. Calories per serve: 155.