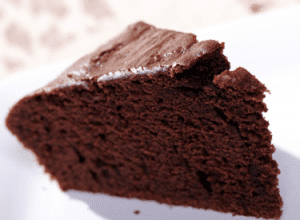 Putting beetroot in chocolate cake may sound like a really strange idea, but the beetroot in this recipe lends a little bit of sweetness and a lovely rich earthiness to an otherwise average chocolate cake and it is better for when you are following a healthy eating or weight loss plan such as our 28 Day Diet & Exercise plan.
Beetroot also helps to keep the cake soft and moist, and the cake is an excellent way to get fussy children (or adults!) to eat beetroot. The beetroot flavour is very subtle – you wouldn't know that the cake is packed with beetroot unless someone told you.
To make a low fat chocolate cake with beetroot, follow the steps below.
You'll need:
250g dark chocolate, broken into pieces
225g brown sugar of Natvia
3 eggs
4 tbsp. maple syrup
1 tsp. vanilla extract
45g each self-raising flour and wholemeal flour
50g ground almonds
¼ tsp. each table salt and bicarbonate of soda
25g unsweetened cocoa powder
100ml coffee (you could use 100ml hot cocoa made without milk if you don't like coffee)
2 tbsp. olive oil
250g raw beetroot, peeled
Directions:
Preheat the oven to 140C. Lightly grease a loose-bottomed 20cm cake tin using butter or oil, and dust with cocoa powder.
Place the chocolate into a heat-proof bowl. Suspend the bowl over a pan of barely simmering water. Melt the chocolate, stirring occasionally, until no lumps remain. Take the chocolate off the heat and then leave it to cool slightly. If the chocolate is too hot, it will scramble the eggs and so it's best to cool it to prevent this from happening.
Beat the eggs with the sugar or Natvia using an electric mixer until pale, fluffy and combined. Add the vanilla extract and the maple syrup and beat until smooth for 1-2 minutes.
Gently fold the self-raising flour, plain flour, cocoa powder, table salt, bicarbonate of soda and ground almonds into the egg mixture using a spatula until you have a smooth cake mixture.
Grate the raw beetroot using a fine grater, or you can finely chop it in a food processor. Once finely chopped, pat the beetroot using some kitchen paper to remove some of the moisture.
Add the beetroot, cooled chocolate, olive oil and coffee to the cake mixture. Fold into the cake mix using your spatula until completely mixed and incorporated.
Pour the cake mixture into the prepared cake tin, then place into the oven for an hour and a half. Cover the cake tin with foil and then bake for another half an hour.
Let the cake cool and then turn onto a cake rack to cool completely.
Serve with some fresh fruit (we love raspberries) and low fat frozen yoghurt
This cake serves 10 people. Calories per serving: 235.
[pb_vidembed title="" caption="" url="http://www.youtube.com/watch?v=46V4n5jq4v0″ type="yt" w="580″ h="485″]